2022 Rhodes Scholar Ahmed Aljohani
11/16/2021


Ahmed Aljohani, a senior KGSP student majoring in Biology at Emory University, has been awarded the internationally renowned Rhodes Scholarship. After successfully navigating the selective and rigorous application process, Ahmed was selected to join the 2022 Rhodes Scholars cohort with over 100 others to pursue a postgraduate education at Oxford University. Ahmed becomes one of four students affiliated with one or more of KAUST's Young Talent Development programs to have received this prestigious scholarship in the past two years, during which time six total Saudi students have been named Rhodes recipients.
A talented and industrious student, Ahmed joined the KGSP as a Foundation Year student in 2017 at Boston University and will graduate in the Spring next year. Throughout his time in the KGSP, he has excelled in his studies and participated in various enrichment and research opportunities. During a summer research internship at KAUST this past summer, Ahmed worked with Professor Salim Al Babili at KAUST's Center for Desert Agriculture, where he conducted research exploring the bioactivity of Zaxinone and its mimics in Pearl millet. In addition, Ahmed participated in a yearlong research project in 2019 at Emory, where he studied the "Effects of cardenolides of milkweed plants on immunity of the monarch butterfly".
"Ahmed has been a tremendous leader on and off campus during his time at Emory. He is a mentor for first-year international students and on the executive board of the Muslim Students' Association at the university," expressed Chidera Ogbonna, Ahmed's KGSP Advisor. "It has been remarkable to witness his success and the way he has embraced and overcome the challenges he faced during his academic journey. I couldn't be prouder of Ahmed's accomplishment, and I know the sky is the limit for him as he moves into this next chapter of his career. Congratulations, Ahmed!"
Ahmed is representative of the talented students that the KGSP supports at top-tier undergraduate institutions in the US. He is also a wonderful example to his fellow peers in the KGSP community, providing advice to his peers on how to remain proactive during the pandemic in a video interview conducted last year in the Fall. His time in the KGSP has been marked by many great achievements and he will undoubtedly continue to impress with his contributions to scholarship as he finishes his undergraduate education and begins his journey at Oxford as a Rhodes Scholar.

Learn more about Saudi Arabia's and KAUST's new Rhodes Scholars here.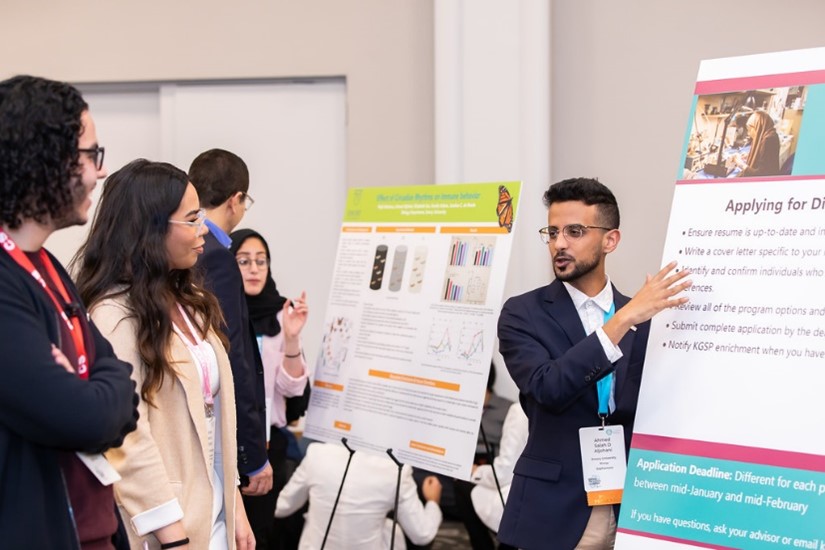 Ahmed at the 2020 Convocation explaining how to apply to research opportunities