On their home university campuses, KGSP students take advantage of many fun and educational activities to explore the intersection of their academic and personal interests. Engagement with activities outside the classroom is highly encouraged by the KGSP, as such opportunities allow students to expand their knowledge, broaden their social network, and develop their professional business acumen; qualities that will benefit and enrich their development both as students and as future leaders.
12/20/2022

Four KGSP students participated in Unite 2030's inaugural Camp 2030 Summit, a global innovation lab, held in New York from September 12th to 18th. UNITE 2030, a community of over 15,000 Changemakers from across the globe who are taking action to end poverty, inequality, injustice, and climate change by the year 2030, brought together 250 of the world's best and brightest youth leaders, given the title of "Changemakers," to develop solutions to the United Nations Sustainable Development Goals (SDGs) as they attend the Summit.
As part of the Summit, the Changemakers travelled to Camp Echo Lake in Upstate New York to brainstorm ideas, build an international peer network, and work towards finding innovative solutions to critical global challenges. Each attendee selected a "Track" and formed working groups to prioritize seven of the 17 SDGs, which were "No Poverty," "Good Health and Wellbeing," "Quality Education," "Gender Equality," "Clean Water and Sanitation," "Decent Work and Economic Growth," and "Climate Action." While at Camp Echo Lake, the participants also engaged in fun, team building activities including ropes courses, archery, hiking, canoeing, and swimming. On the final day, they returned to New York City to pitch their solutions to a judging panel consisting of Camp 2030 partners and experienced professionals from around the world to win support for their ideas.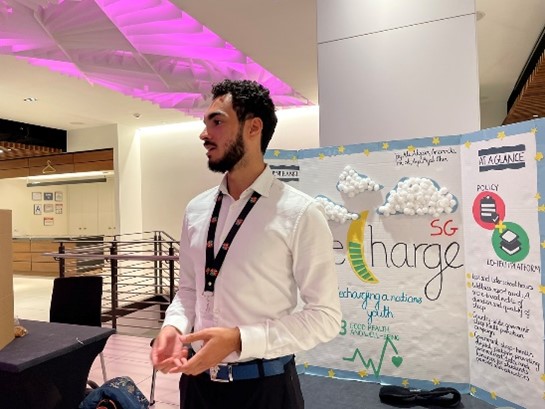 Ali Algain, a sophomore at University of California, Berkeley majoring in Molecular and Cell Biology, was in the "Good Health and Wellbeing" Track. He and his team conducted a case study on the country of Singapore and studied ways to improve people's sleeping habits, recognizing that sleep deprivation contributes to a range of physical and mental illnesses and premature deaths.
Leah Jeedas, Ali's KGSP Advisor, praises his conduct and determination as a KGSP student. "Ali's only been in the Program a little over a year and the connections he's made from utilizing KGSP opportunities and engaging with KAUST affiliates is amazing". The KGSP encourages its students to take part in a variety of extracurricular activities and enrichment opportunities, knowing that these experiences will prove worthwhile for their educational development and growth.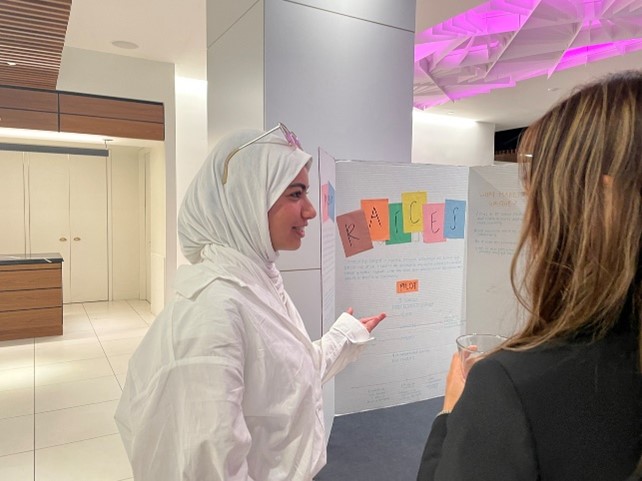 Layan Kazem, a junior at Rensselaer Polytechnic Institute majoring in Biomedical Engineering was on the "Quality Education" Track. Their group's idea, "Raíces", is a meant to be an alternative, community-driven, and supplemental educational program. They discovered that in Ecuador, there has been a significant decline in student enrollment at the high school level since the return to in-person instruction. The purpose of "Raíces" is to improve student participation, by providing immersive apprenticeship opportunities with local community leaders, artisans, and skilled laborers, which will provide the students with relevant technical skills while earning a high school education.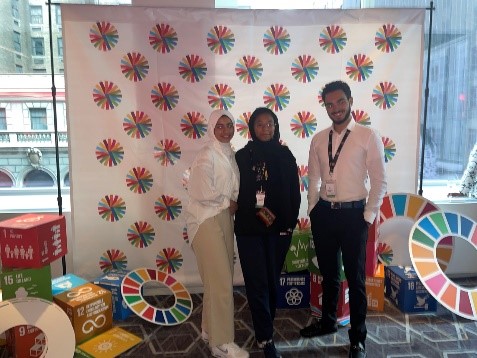 Jood Simbawah, a sophomore at University of California, Los Angeles majoring in Materials Engineering, worked on the "Climate Change" Track, and sought to determine how to spread informative environmentally concerned knowledge so that people can make informed decisions on how to combat climate change.
All the participants of Camp 2030 return to their communities with new skills, knowledge, and resources to mobilize positive and constructive action. They will also have access to the alumni network of over 1,000 Changemakers from across the world. For our KGSP students, they have a remarkable experience to add to their resumes and student profiles that shows how they are leveraging their skills for positive change and experiential and innovative solutions for current and pressing world issues.