On their home university campuses, KGSP students take advantage of many fun and educational activities to explore the intersection of their academic and personal interests. Engagement with activities outside the classroom is highly encouraged by the KGSP, as such opportunities allow students to expand their knowledge, broaden their social network, and develop their professional business acumen; qualities that will benefit and enrich their development both as students and as future leaders.
Student Spotlight: Hassan Al Moalim and Abdullah Hejazi
5/31/2022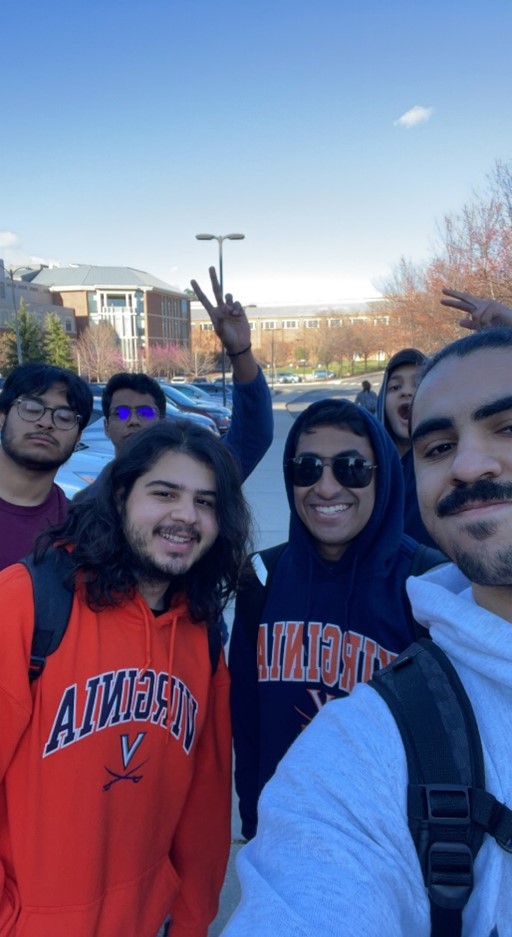 Abdullah Hejazi (front left) and Hassan Al Moalim (front right)
On March 26 and 27th, Hassan Al Moalim and Abdullah Hejazi, two KGSP first year undergraduates majoring in Computer Science at the University of Virginia, participated in UVA's Hoo Hacks hackathon event. For 24 hours, they learned new skills, brainstormed and created interesting tech projects and networked with students and tech professionals. All participants joined teams to think of innovative ideas that could improve or solve contemporary issues related to one of these seven prompts: Data Science, Sustainability, Health, Finance, Education, Accessibility and Empowerment, and Art and Gaming.
Abdullah's group chose Sustainability and created an application that uses machine learning to recognize images uploaded of waste, and then shows the proper way to get rid of it in a sustainable way. The application also kept track of the scanned waste to show the impact the user is making by disposing their waste in an environmentally friendly way. "I have never had this much fun working on a project," admitted Abdullah, "Of course, we faced a lot of different obstacles and shortcomings, especially since we are not experts in most of the languages and frameworks we are using, but the fact that we were learning along the way, together, was amazing."
Hassan and his team chose the topic of Education, and created a study app that uses gamification,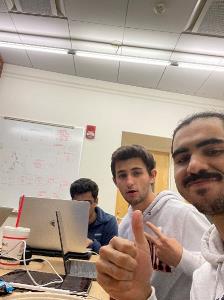 accountability, and proven study habits to boost productivity. On his team, Hassan was assigned to handle the back-end development of the app in which he used Python, a programming language that he learned from his schoolwork. Hassan believed that Hoo Hacks would be a great opportunity to explore his interests in software engineering and cyber-physical systems. "I wanted to apply what I learned throughout the years to create real-life applications," Hassan expressed. "I also thought that it would be an excellent opportunity to have some fun and meet new people who are enthusiastic about coding and designing creative solutions for contemporary issues."
Their KGSP Advisor, Monica Matais celebrated her students' drive and initiative saying, "Hassan and Abdullah are amazing individuals. As freshmen at UVA, they have hit the ground running and taken advantage of exciting opportunities on campus within their major as well as outside. I can't wait to see where their passion and excitement for personal and academic growth will take them over the next three years!"
Both students expressed that the hackathon was an enriching and fun experience and are excited to participate in more in the future.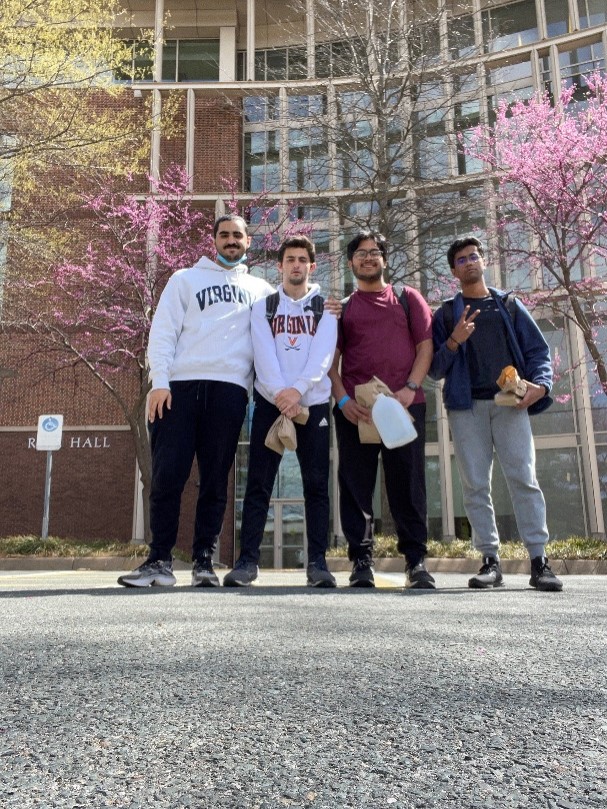 Hassan Al Moalim and Hoo Hacks Teammates