On their home university campuses, KGSP students take advantage of many fun and educational activities to explore the intersection of their academic and personal interests. Engagement with activities outside the classroom is highly encouraged by the KGSP, as such opportunities allow students to expand their knowledge, broaden their social network, and develop their professional business acumen; qualities that will benefit and enrich their development both as students and as future leaders.
Student Spotlight: Basem Eraqi
Basem Eraqi, a rising senior majoring in Mechanical Engineering at the University of California-Irvine, is taking advantage of the summer months to engage with several enrichment opportunities.
Basem is currently conducting research on Carbon Budget Calculations for the Red Sea Development Project with Dr. Mani Sarathy, Professor of Chemical and Biological Engineering and Associate Director of the Clean Combustion Research Center at KAUST. Under his supervision, Basem's work focuses on the estimation of CO2-equivalent emissions resulting from various activities, such as construction, energy generation, transportation and water desalination. Calculating the emissions is a significant component of the Project's goal to sizably reduce the carbon footprint of development initiatives around the Red Sea.
"Carbon emissions directly impact the design of energy conversion devices, which is one of my main research interests in mechanical engineering," Basem stated. "Working on this project is helping me better understand the environmental aspects of energy conversion, which will be useful for future projects in the field".
In addition to his KAUST enrichment, Basem is also working on publishing the findings of his research project, "A Method for Quantifying Battery Degradation Cost Due to Vehicle-to-Grid Charging," that he conducted last summer with Dr. Rajit Gadh, Professor of Mechanical Engineering and Director of the Smart Grid Energy Research Center (SMERC) at the University of California, Los Angeles.
Finally, Basem has secured a research grant at his home university that will begin later during the summer and is anticipated to continue into the fall semester. "Basem has had an incredible opportunity to participate in research programs and expand his experience," expressed Casey Bulen, Basem's KGSP advisor. "As he studies mechanical engineering, he needs more than a theoretical knowledge of the scientific concepts and needs to be capable of applying this knowledge to real-life challenges. Through his work, he's not only been able to actively incorporate this as part of his educational journey, but also had the opportunity to present, discuss, and debate this research and better solutions with professionals in the field."
Through the KGSP's support, Basem continues to grow as a student drive as he pursues even more interesting research opportunities.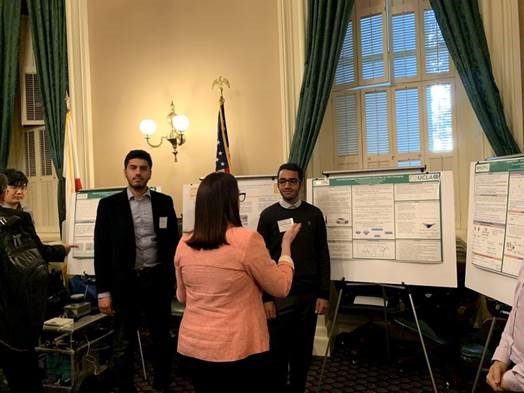 Basem presenting his research at the Workshop on Technology Trends in Transportation and Electricity held in Sacramento at the State Capitol Building last October.