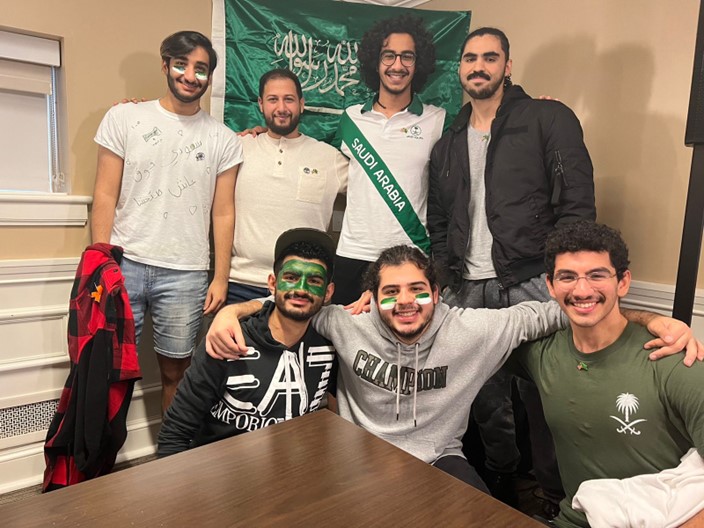 Promoting community development and student engagement is an important aspect of the KAUST Gifted Student Program. Community-building activities provide students with social and emotional support and serve as a well-deserved study break. As the world's largest single sporting event, the 2022 FIFA World Cup offers the perfect excuse to connect with peers and cheer on one's home country. As such, KGSP students were among the billions of people around the world who gathered at their respective US campuses to see who would score a winning goal.
The World Cup provides a unique venue that cultivates comradery, unity, and pride. This is also true for KGSP students, especially now that the World Cup is being held in a country bordering Saudi Arabia, and in which Saudi Arabia and other Arab nations have been competing. After the upset on November 22nd, in which Saudi Arabia beat Argentina in a match that defied expectations, excitement could be felt around the world. What better way to connect with other KGSP students than to cheer on the home team?
On Wednesday, November 30th, six KGSP students at the University of Virginia (UVA) watched the Saudi Arabia vs. Mexico World Cup match, sporting team colors and waving their country's flag (pictured below). All six students are Computer Science majors, members of the UVA Saudi Club, and according to their KGSP Advisor, Kristen Olsen, have been active members of the KGSP community. A few KGSP students at the University of Illinois at Urbana-Champaign, including Ali Alsammak, a freshman studying
Electrical Engineering, also participated in watch parties at their campus, representing their home country among their peers.
"The World Cup has bonded me even closer to my fellow KGSP students," says Ali. "Whether they were at the start of their foundation year or junior year in college didn't matter too much. Together, we all celebrated our wins and cheered as loud as possible in support for our countrymen half a world away."
Attending World Cup watch parties helps to foster a sense of community in the KGSP. That community is the network of student peers and mentors that helps students succeed in the long term. For that reason, the KGSP encourages a healthy student-life balance, supporting mental, emotional, and social well-being as well as academic excellence. By encouraging KGSP students to gather to share a meal or to celebrate a winning goal, the KGSP helps foster a culture of comradery and solidarity, strengthening ties to each other and to the KGSP as a whole.