9/19/2022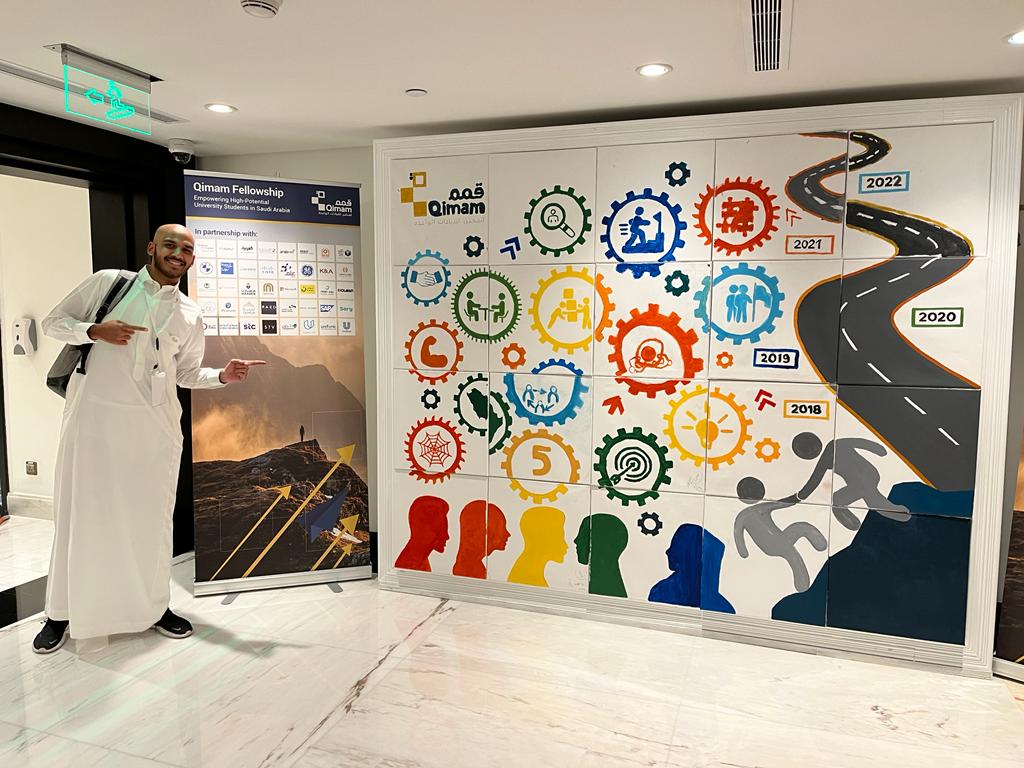 Abdulaziz Memesh, Qimam Fellow of the 2022 Cohort

Seven KGSP students were selected for the Qimam Fellowship, which is a highly selective summer program created by McKinsey which is takes place in Riyadh, Saudi Arabia. The program features mentorship from senior executives and leading professionals who are tasked with actualizing the talent of some of the most high-potential young Saudi nationals.
Since McKinsey established the Qimam Fellowship in 2018, 50 young Saudis from KGSP have been chosen as fellows. After a rigorous application process evaluating the students' academic performance, leadership potential, and dedication to social responsibility, the KGSP students were selected from a pool of over 17,000 candidates. In June, the fellows received one-on-one mentoring from senior leaders in the public and private sectors, leadership training, career guidance, and site visits to leading companies, including Cisco, the Saudi National Bank, the Saudi Industrial Development Fund, and Seera Group Holding. Students who are selected as fellows also have the unique chance to network with influential business figures and benefit from extensive networking opportunities. In addition, they are also joining a network of over 200 former fellows who have stayed in touch via the fellowship's alumni program.
Abdulaziz Memesh, a sophomore at the Georgia Institute of Technology studying Computer Science, learned about the Qimam Fellowship via the KGSP's Enrichment Digest, a weekly email sent to KGSP students to promote enrichment opportunities. He overwhelmingly enjoyed his experience and appreciated everything he learned, saying, "I'm very thankful for having the opportunity to be in a program like Qimam. It was honestly one of the best experiences of my life". He was also grateful for the one-of-a-kind chance to expand his network of public and private sector colleagues. "One of the things I enjoyed, which can only happen in Qimam, was meeting and being connected and noticed by a sea of C-level executives and entrepreneurs leading Saudi Arabia towards its vision. I would never imagine having an opportunity like this without Qimam."
According to Theodore Helms, Abdulaziz's KGSP Advisor, "Abdulaziz is an extremely dedicated student who has achieved much throughout his time in KGSP." His advisor also observed that Abdulaziz has paid close attention to KGSP newsletters and has not been afraid to go for challenging opportunities.
The seven students are reflective of KGSP's caliber, and their ambition plays a pivotal role in shaping Saudi Arabia's future.
Abdullah Alsinan, a freshman majoring in Mechanical Engineering at Rice University

Abdulaziz Memesh, a sophomore majoring in Computer Science at the Georgia Institute of Technology

Khalid Ajran, a freshman majoring in Mathematics and Computer Science at the Massachusetts Institute of Technology

Manal Alshamrani, a sophomore majoring in Biomedical Engineering at Boston University

Mohammed Alharthi, a freshman studying Applied Mathematics at the University of California, Los Angeles

Norah Alhindi, a junior majoring in Biochemistry at the University of Washington

Zainab Abdullatif, a junior studying Mechanical Engineering at the University of Rochester