KAUST Summer Internship Program
9/02/2022

As part of the KAUST Summer Internship Program (KSIP), KGSP students are working with over 30 KAUST faculty members on research projects throughout KAUST's three academic divisions: Biological and Environmental Science and Engineering (BESE), Computer, Electrical, and Mathematical Science and Engineering (CEMSE), and Physical Science and Engineering (PSE). This unique undergraduate experience offers an opportunity to conduct meaningful research on cutting-edge projects while collaborating with world-renowned faculty members and their teams in state-of-the-art facilities.
This summer, 59 KGSP students are participating in KSIP: 50 juniors and 9 sophomores. Eleven of the students are participating in a new Directed Study track of the KSIP, designed to enrich the theoretical and practical knowledge of the students under the mentorship of a KAUST faculty member. The KAUST Summer Internship Program will culminate with a poster session where all KSIP participants will present their summer projects posters. The students will present their posters during this year's Pre-Departure Orientation for KGSP's Cohort 14, the scholarship's newly admitted students. In addition, the KSIP students will participate in weekly activities such as supplemental career development workshops, lab visits, an off-campus trip, and community building activities with KGSP alumni.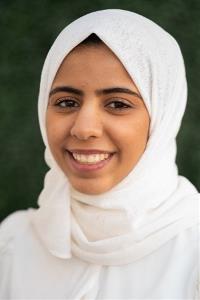 Youmna Alnasrallah, a junior majoring in Computer Science at the University of Massachusetts, Amherst, is currently working with Professor Thibault Guiberti and his research team on developing an artificial neural network for the early detection of harmful emissions from hydrogen-ammonia flames.
Although she is working on a project within the PSE division, Youmna is discovering that the research project has interdisciplinary elements that relate to her major and her academic interests. She revealed, "I have always been interested in research that will help save the environment and reduce the effects of global warming. As a Computer Science student, I didn't know how my interests could align with my major, but this project was a great opportunity to see how they can intersect." Through her work on this project, Youmna is being introduced to various Machine Learning algorithms and learning to apply them, reinforcing topics she has learned at her undergraduate university.
Completing summer internships at KAUST provides KGSP students with the experience of working in leading research facilities under the guidance of world-class researchers. After being immersed in an environment of graduate-level research and contemporary scientific studies, the students will return to their undergraduate institutions in the US to begin their fall terms with experiential knowledge to complement their coursework in their respective fields of study.