KAUST Provost Carin Visits KGSP Students
5/12/2022

KAUST Provost Dr. Lawrence Carin recently visited 18 KGSP students earning their Bachelor of Science degrees at leading universities in New York and North Carolina. Such student-leadership gatherings exemplify the KGSP's commitment to helping students both network with experts in their fields, as well as to stay connected to KAUST—its initiatives, impact, and world-renowned academic community. After giving Welcome Remarks at January's virtual KGSP Convocation 2022, it was an honor for the students to meet and speak with Dr. Carin in-person. They benefited not only from hearing about his vision for education at KAUST, but also in understanding the important position that KGSP students hold in its realization.
At each dinner, Dr. Carin spoke of his academic and professional paths in the field of computer science—specifically AI and Machine Learning—imparting his advice for success and lessons learned. He invited students to share their unique stories and viewpoints about studying abroad, finding commonality in the ways in which these experiences mirrored his own journey to KAUST. Dr. Carin emphasized the importance of making the most of the incredible opportunities offered by the KGSP to advance the students' ambitions, while always remembering that in doing so as KGSP students, they represent KAUST and the Kingdom as key contributors to their shared future.
"One of the most powerful things about the KGSP is that, along with preparing the brightest young Saudis to come back to the Kingdom and contribute new and diverse ideas and skills in globally crucial fields of the future, it also introduces their young American and international peers in US universities to the next generation of thinkers and innovators in a country they may not know a lot about," Dr. Carin said. "KGSP students are the promising face of KAUST and the Kingdom to countless students and faculty abroad, and with the transformation happening now in Saudi Arabia, these networks and the growing value they bring truly run in both directions."
Ahmad Almesned, a sophomore majoring in Computer Science at New York University, attended the New York dinner with the Provost. "As someone that is new to the field of computer science, being able to share ideas and gain insights from such an expert in the field is an opportunity that I am very thankful for," Ahmad stated. "Dr. Carin shared advice and wisdom with me, and his words still ring in my ears."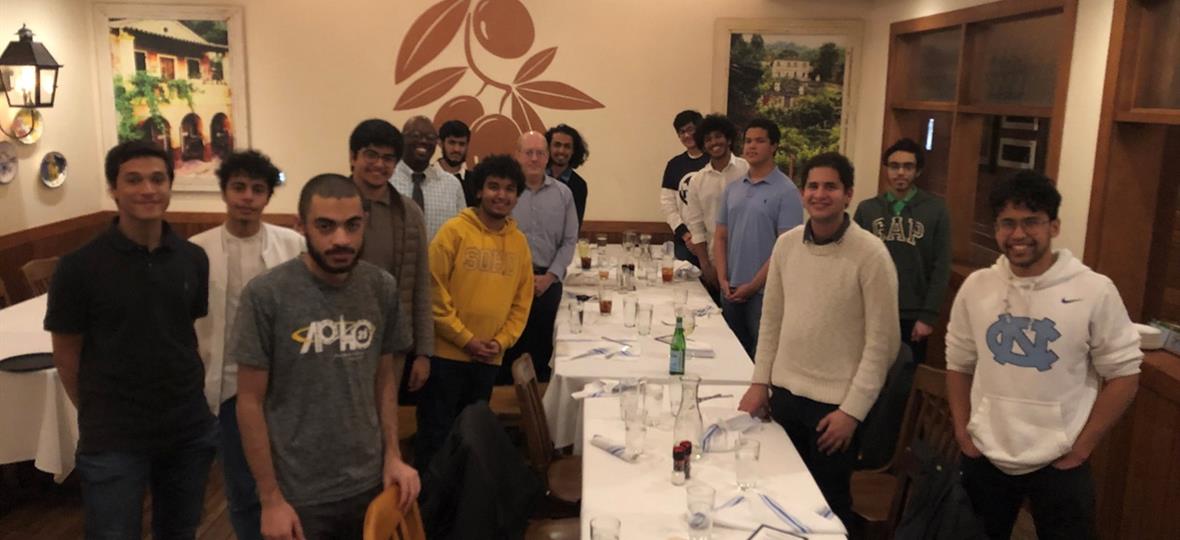 KAUST Provost Carin, KGSP Advising Lead Stafford Oliver, and KGSP students