10/27/2021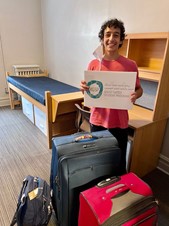 For the months of September and October, 62 Foundation Year (FY) students and 41 Direct-to-Undergraduate Freshmen have been arriving in the United States to begin their first semester as new KGSP students. Despite facing a global pandemic, the students chose to prioritize their education by joining the KGSP. After attending this year's Pre-Departure Programming (PDP), students were given the necessary resources and tools to help them adjust to living in the U.S. and start their first year in the Program on a strong note.
The new students were greeted in the U.S. by KGSP Advisors, many of whom they met virtually during the PDP, and were assisted by them with their campus move-ins. Now in the U.S., the students will have the opportunity to apply lessons that they learned during the PDP. Ali Alsammak, an FY student at the University of Pennsylvania feels well prepared for his journey in the KGSP, saying "The PDP provided me with an overall 'plan' of what I will be doing as a KGSP Foundation Year student, which helped ease some of the stress I was having for the upcoming year. This year, I feel more excited because I am way more prepared to take on college applications, and I look forward to discussing my university plan with my KGSP advisor."
"I am looking forward to utilizing the resources I have at my disposal. KGSP provided us with an incredible community and terrific opportunities. At this point, it is my turn to make the most of both," said Fatimah Almuallim, an FY student at the University of Pennsylvania. Fatimah also plans to major in Electrical Engineering and is interested in working in fields that focus on creating smart cities, smart rooms, and increasing efficiency by using technology. Fatimah believes being a KGSP student will increase her chances of establishing connections with worthwhile internships.
Their KGSP Advisor, Susanna Renfrow, praises her two KGSP students for making substantial progress in their first couple weeks in the KGSP, saying, "Both Fatimah and Ali have done a fantastic job settling into the rigor of the FY and really taking advantage of the offerings of KGSP and of their new community in Philadelphia." Both students have made great improvements to their university applications by implementing feedback and working with their essay coaches while also striving to make gains in test scores through FY course engagement and one-on-one tutoring.
The KGSP warmly welcomes Cohort 13 and the returning KGSP students and wishes them the best of luck this semester as they embark on a new year of educational opportunities.