7/28/21

This Spring, Fahad Alshaiban, a graduating senior from University of Wisconsin-Madison, completed his undergraduate degree in Mechanical Engineering.
Fahad was admitted to the KGSP in 2016, joining the University of California, Berkeley as a Foundation Year student—an experience he credits with greatly preparing him for what to expect as an international undergraduate. "The Foundation Year was the perfect opportunity to accumulate an understanding of what I wanted to achieve during my college program in the U.S., as well as furthering my long-term career goals and ambitions," stated Fahad.
Becoming part of the KGSP peer network was also instrumental to Fahad's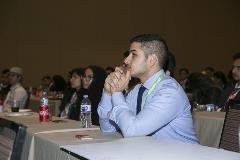 early success: While attending the 2017 Convocation Fahad found inspiration through this unique community of talented, driven, and like-minded students who not only encouraged one another in their academic pursuits but also set ambitious goals of what could be achieved during their time with the KGSP.

Fahad used those lessons to inform his undergraduate career. He participated in several enrichment opportunities throughout his time in the Program to maximize his skills and expand his pre-professional profile, proudly citing his 2019 summer internship with Dow Chemical Company as a major influence on his overall academic and professional career. Serving as a Maintenance Engineer at the company's Freeport, TX facility, he was supervised by a reliability engineer and helped maintain the equipment. His role focused on monitoring critical spare parts, updating equipment procedures, and implementing visual inspection procedures. His internship experience provided ample supplemental and applicable knowledge for his Mechanical Engineering classes, particularly regarding theoretical ideas of thermodynamics and heat transfer.
Fahad was also actively involved in student clubs at UW-Madison, particularly the WI Space Race whereas a senior he served as Chief Finance Officer. As competitors in the Base 11 Challenge, the student club aims to be the first student-led university team to design, build, and launch a liquid-propelled, single-stage rocket to an altitude of 100 kilometers (the Karman Line) by December 30, 2021.

Fahad is planning to pursue a master's degree in Mechanical Engineering at KAUST in August, stating "In the future, I hope to further the development and deployment of renewable energy in Saudi Arabia. I think there's a lot to be learned and achieved in the renewables sector, so helping push that idea to reality would be a remarkable achievement for my personal goals and the sustainability of the country."

Fahad working in Student Group at 2019 Convocation