COVID-19 in Research and Curriculum
As COVID-19 continues to impact communities all over the world, KGSP students are actively identifying opportunities through which they can not only learn more about the scientific implications of the virus and its spread, but also the factors comprising an effective global response.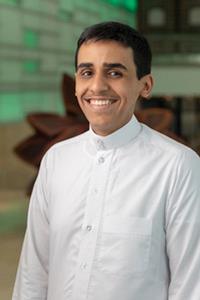 In fall 2020, Khaled Alqahtani, a sophomore studying Biology at the University of California, Berkeley, joined the Public Health Division of the Undergraduate Laboratory @ Berkeley (ULAB), a year-long program for undergraduates interested in on-campus interdisciplinary research. Khaled and his team are investigating the role of CRISPR-Cas 9 as a potential diagnostic tool for different diseases, primarily COVID-19. Their research also includes how to effectively distribute the tool for widespread usage, particularly in underserved communities. In addition to this and his rigorous academic program, Khaled also serves as a writer for The Daily Californian, UC Berkeley's student newspaper.
Through his involvement in both organizations, Khaled is actively expanding his research and professional development experiences, reports his KGSP advisor, Casey Bulen. "He's developing skills in writing and communication, research practices, real-world application, and, most importantly, critical thinking that will help him in graduate school and as a professional in his field."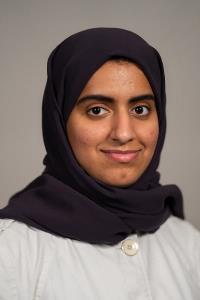 Sarah Almutawa, a sophomore majoring in Biology at the University of Wisconsin-Madison, enrolled in the online seminar, "Lessons from Ebola: Preventing the Next Pandemic" during summer 2020. Sarah explained, "I was curious to learn about what went wrong during the Ebola epidemic and how that can be avoided during the current pandemic." She was struck by the fact that pandemics will continue to be a phenomenon that humanity will encounter in the future and believes that the best strategy moving forward is to learn from what came before. Based on this, she concluded that more focused attention on how global interconnectivity makes populations more vulnerable in the context of a pandemic is necessary, further noting that in a situation where human health is so interdependent, the differences in the quality of healthcare systems across the world is revealed.
Sonya Chaudhry, Sarah's KGSP advisor, describes Sarah as a bright and curious student always looking for new challenges, as exemplified by her joining UW-Madison's rigorous and competitive Letters and Science Honors Program.
The KGSP encourages students to pursue a wide array of learning and developmental opportunities to supplement their coursework. These not only contribute to stellar academic performance, but also provide real-world experiences that will help them in their quests to tackle the world's most pressing problems with efficient solutions and positive outcomes.