KSGP students represent some of the most talented young minds in the Kingdom, who wish to join in the Program's vision of fostering a pool of Saudi Arabian scholars within the scientific and technological fields. After earning a Bachelor of Science Degree from a top U.S. university, KGSP alumni have gained the knowledge and professional experience necessary to contribute to KAUST's dynamic mission as future graduate students, as well as to the Kingdom's rapidly evolving knowledge economy as young leaders. With each year's graduating class of MS and PhD students at KAUST, the KGSP's impact is reinforced through the achievements of the Program's prestigious alumni.
Alumni also play a vital mentorship role in the KGSP community, as they are excellent resources for current students to learn about the opportunities the KGSP provides, and pathways for success after graduating. Alumni have already succeeded in the KGSP and know what it takes to be a thriving undergraduate KGSP student. This peer relationship is encouraged by the KGSP and often facilitated through KGSP events and activities, augmented through the robust support already provided by KGSP Advisors.
Rund Tawfiq, a KGSP alumna joining the KAUST graduating class this December upon earning a MS in Biology is an excellent example of KGSP alumni giving back to the program. During a moderated discussion with newly-admitted KGSP students, Rund encouraged them through her example and sharing the lessons she and her peers learned both as members of the KGSP and while at KAUST. She cited the importance of using all the resources made available through the KGSP, specifically the program's research emphasis. Rund used this motivation to become a successful researcher as a KAUST graduate student, working under faculty she described as "the best at what they do."

Redha Al Ibrahim, currently pursuing his doctorate at KAUST, is another KGSP alumnus who fully represents the impact of the KGSP. In a discussion with current KGSP students, Redha reveled in the benefits of the supportive KGSP peer networks, which he believes helped him adjust to his new learning environment as an undergraduate in the United States, and which continues to be just as important at KAUST.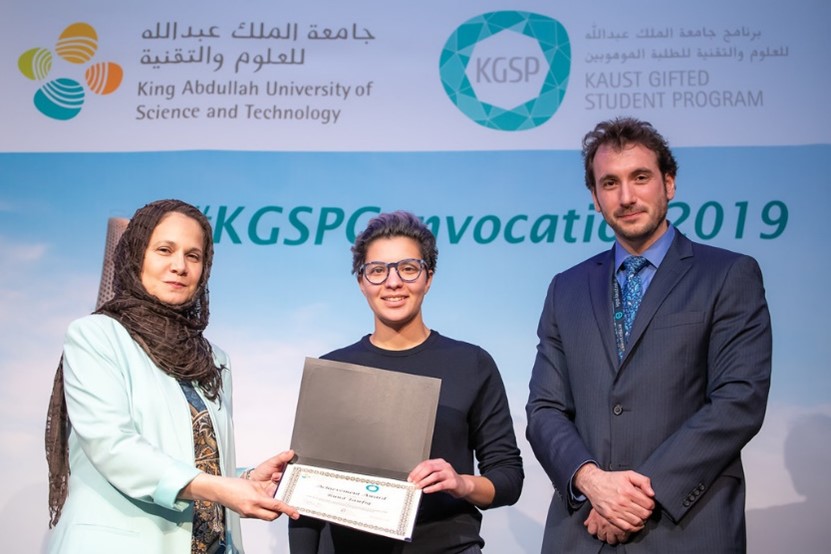 Rund Tawfiq with Dr. Najah Ashry, Senior Associate to the President and Vice President of Strategic National Advancement, and Saham Al-Husseini, Director, Undergraduate and Scholarship Programs at the 2019 KGSP Senior Commencement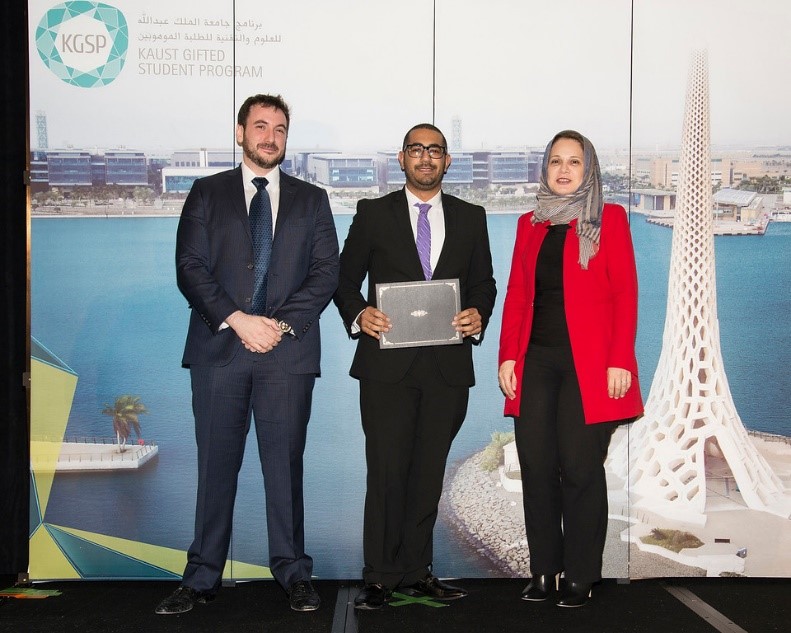 Redha Al Ibrahim with Dr. Najah Ashry and Saham Al-Husseini at the 2018 KGSP Senior Commencement