KGSP Freshmen Visit the Penn State GridSTAR Research Center
07/15/2017
On June 13th, KGSP Freshmen from Pennsylvania State University visited Philadelphia's Penn State GridSTAR Research Center, created after the university received a multi-million dollar award from the U.S. Department of Energy to research practical uses of solar energy in industrial applications. As part of this special visit, KGSP students also had the opportunity to learn about GRIDSTAR's undergraduate summer internship program, the Energy Innovation Leadership Experience: In this program, interns are matched with companies for an experiential learning project, intended to bridge the gap between research and application of solar energy. KGSP students spoke with current interns and their supervisors to learn about how they could prepare to apply for possible future research opportunities applicable to their majors, such as Materials Science & Engineering.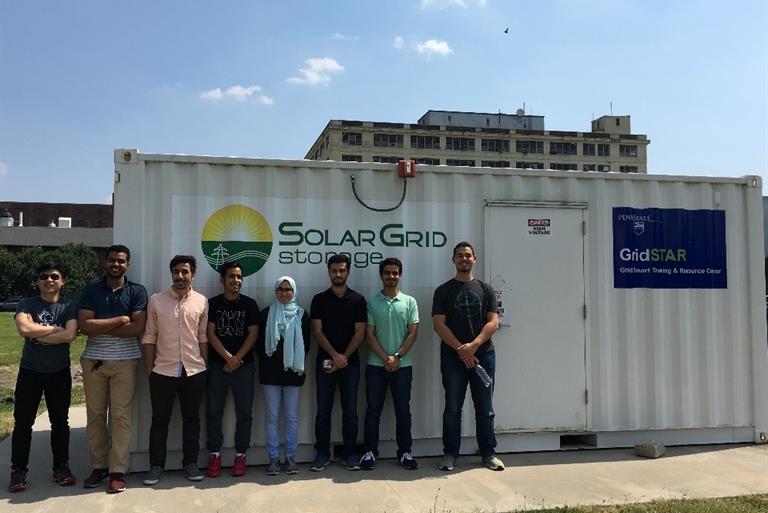 KGSP Freshmen at the Penn State GridSTAR Research Center, pictured with their undergraduate mentor

This site visit was a special opportunity available only to KGSP students as part of the Undergraduate Research Experience, a six-week customized enrichment program developed by the Scholarship in partnership with Penn State. Over the course of the program, students researched the following topics:

Aessa Alabdrabalnabi and Faris Almohamed
Project title: The Characterization of Conjugated Polymers' Optical Properties [Chemical Engineering]
Mohammed Albaqshi and Yasir Alsehli
Project title: The Effect of Dust Particles on the Aerodynamic Forces on Airfoils [Chemical Engineering
Shahd Ali
Project Title: Simulating Wrinkling on a Thin Bio-layer Surface to Mimic the Willi in the Small Intestine
Rajeh Alsaadi
Project Title: Expitaxial Relationship of FCC Metals with WSe2
Abdulrahman Taher
Project Title: Simulating the Folding of Smart Polymers to Create Bio-Engineered Organs
KGSP's commitment to providing meaningful enrichment opportunities tailored to individual student needs, talents and professional goals differentiates the Scholarship from other programs of its kind. KGSP students benefit from participating in at least two such activities each year—one in the summer, and one during the regular academic term. Summer enrichment activities include academic research at the home university, specialized research and enrichment programming at a visiting institution, industrial internships, and summer research placements with a KAUST faculty member on campus. Additional opportunities available throughout the year include attendance at conferences, seminars, short courses, trainings, as well as additional engagement activities with KAUST faculty and leadership. In 2016/17 academic year, over 90 percent of all undergraduates participated in such activities.