Enrichment Spotlight: Omar Arafat
06/15/2017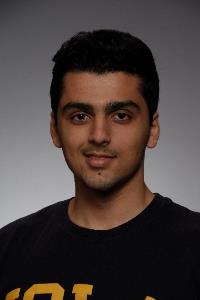 Omar Arafat, Cohort 7

In July, KGSP student Omar Arafat completed his summer internship in New Mexico at the Los Alamos National Laboratory, or LANL. As a United States Department of Energy national laboratory, selection for LANL student internships is very competitive and limited to students with a diverse background and significant academic promise. As a sophomore Chemistry major at the University of California, Los Angeles (UCLA), Omar excels in his coursework and serves as a positive role model to other students as an International Student Ambassador for the Dashew Center for International Students & Scholars.
During KGSP, all students participate in yearly summer enrichment opportunities, including industrial internships, home institution research and research at KAUST. In 2016, Omar conducted research on nanoparticles and nanosystems under the supervision of Dr. Hsian-Rong Tseng, Professor of Molecular and Medical Pharmacology at UCLA. This experience trained Omar in developing the knowledge and scientific communication skills necessary to take on this next challenge at LANL.
Says Omar, "My experience as a KGSP student has given me the confidence to think big and pursue my goals. I hope that my research project on biomass at Los Alamos will give me the opportunity to meet other undergraduate students from across US and to tackle real-world problems with them."

KGSP's commitment to providing meaningful enrichment opportunities tailored to individual student needs, talents and professional goals differentiates the Scholarship from other programs of its kind. KGSP students benefit from participating in at least two such activities each year—one in the summer, and one during the regular academic term. Summer enrichment activities include academic research at the home university, specialized research and enrichment programming at a visiting institution, industrial internships, and summer research placements with a KAUST faculty member on campus. Additional opportunities available throughout the year include attendance at conferences, seminars, short courses, training, as well as additional engagement activities with KAUST faculty and leadership. In 2016/17 academic year, over 90 percent of all undergraduates participated in such activities.