07/03/2016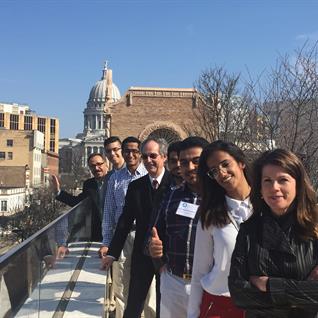 Earlier this spring, KGSP upperclassmen were honored to welcome members of KAUST's leadership to their United States host cities. President Jean-Lou Chameau was joined by Executive Vice President Nadhmi Al-Nasr and KGSP Academic Oversight Committee member Dr. Carol Carmichael, meeting with over 20 students from 12 universities at events in Boston, West Lafayette, Chicago, and Madison.


To complement the formal keynote lectures and large-scale academic and enrichment activities that mark the
annual KGSP Convocation
, the new Presidential luncheon series offer a more intimate setting for juniors and seniors to engage in meaningful dialogue with KAUST leadership and their peers. Students have the opportunity to share personal research interests and accomplishments, as well as academic and career goals. They also have the chance to seek personal and professional insight from the University's leadership as they prepare to pursue graduate degrees at KAUST.
At all four events this spring, students learned from discussions about KAUST's growing research portfolio, economic innovation programs, and its evolving role in development within Saudi Arabia. In turn, KAUST leadership enjoyed hearing more about the students' experiences in KGSP and as undergraduates in the United States.


The second series of Presidential Luncheons will take place in in Academic Year 2016-17.