Student Spotlight: Dina Alshehri
9/19/2022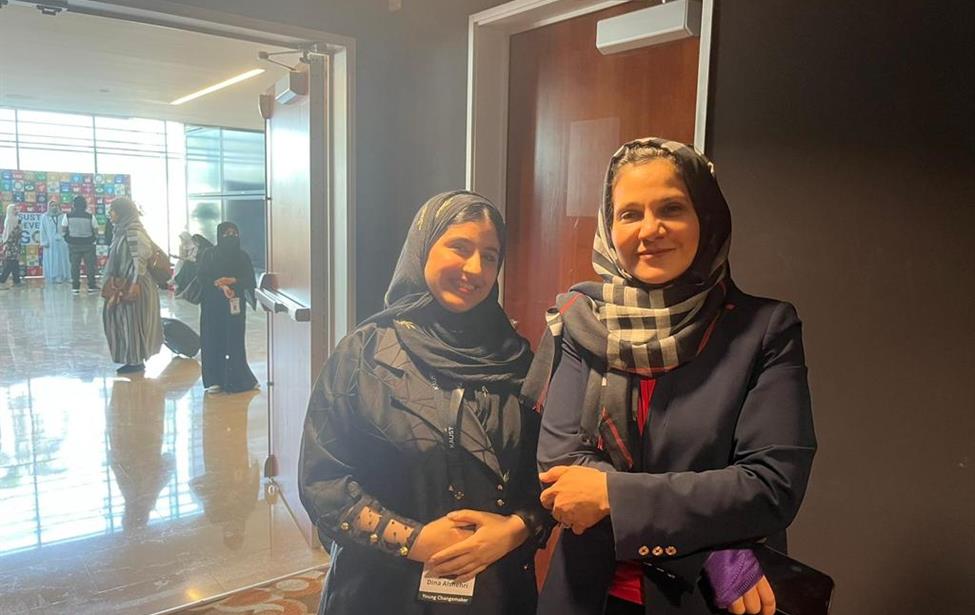 Dina Alshehri and Dr. Najah Ashry, Senior Associate to the President and Vice President of Strategic National Advancement

Dina Alshehri, a Foundation Year student at North Carolina State University, attended the youth-driven organization - Saudi Youth for Sustainability (SYS) conference held June 19th-20th at the King Abdullah University of Science and Technology. The inaugural conference, themed "Thriving Together," brought together students, professionals, and scholars to explore how Saudi youth can positively contribute to Vision 2030.
SYS was formed by the KAUST student group, Students for Sustainability, and is directed by its President and KGSP alum Eman Alhajji. It aspires to bring together Saudi youth to generate new ideas and solutions for sustainable development through advocacy, scholarship, and technology.
Dina and the rest of her FY cohort could not attend their Pre-Departure Orientation on the KAUST campus in 2021 due to the COVID-19 pandemic, so they were grateful for the invitation to the SYS conference. "It was my first time at KAUST. Seeing where I will end up after my bachelor's degree was enlightening," said Dina. Students immerse themselves in KAUST's cutting-edge research facilities during their undergraduate years and establish relationships with KAUST Faculty. The conference at KAUST highlighted KAUST's innovative mission while also highlighting Dina's position as a student in impacting the University, the economy of Saudi Arabia, and creating a sustainable future. "I was always interested in sustainability and thought of dedicating my career to enhancing the environment surrounding me. So as soon as I saw the conference poster, I thought it would be a great idea to attend and learn," Dina said.
Dina's experience as a KGSP student shows the wide range of opportunities available to KGSP students as part of their development activities. She attended her first conference as an FY student and finished her first year of studies in the United States. "Dina has set high expectations for herself and has an impressive determination to achieve, which will serve her well when she enters her undergraduate degree," Huzaifa Potia, her KGSP Advisor, said. This fall, Dina will begin her first semester as a student at Virginia Polytechnic Institute and State University, majoring in Electrical Engineering with a concentration on sustainable and solar energy.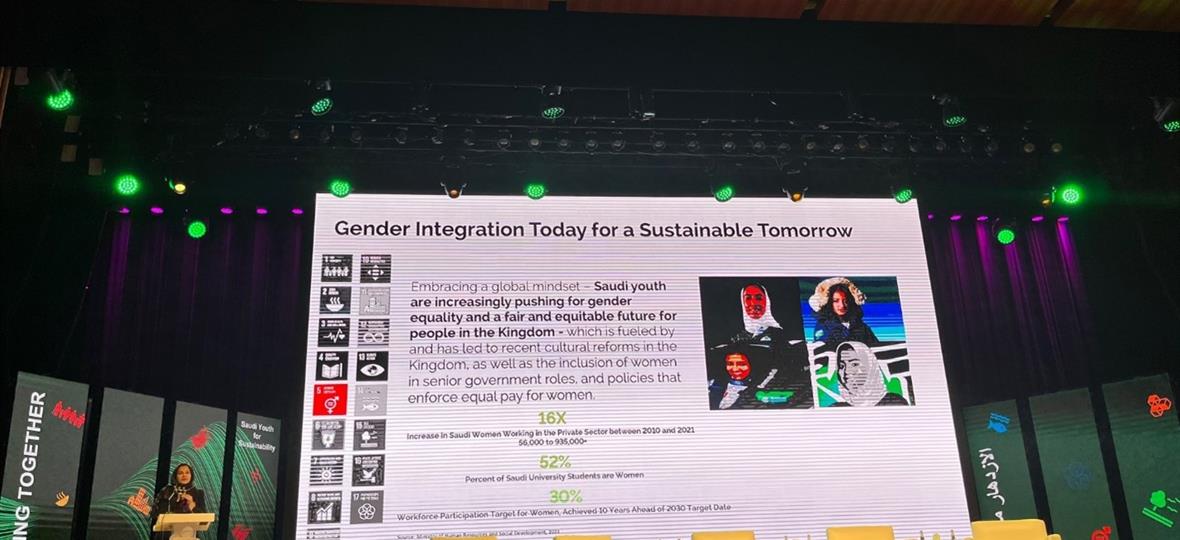 Dina Attending a SYS Program Session

KGSP students represent the Kingdom of Saudi Arabia's future scientists, engineers, entrepreneurs, and thought-leaders. As both individuals and as a community, they reflect the KAUST mission of driving scientific discovery through excellence in education and cutting-edge research, and share a commitment to fostering innovation, economic development, and social prosperity throughout the Kingdom and the world.

Selection to the KGSP is extremely competitive, and currently by invitation only. Successful applicants are Saudi Arabian students in their final year of high school who demonstrate impressive academic credentials within STEM fields, meaningful extra-curricular achievements, and who share the KAUST ethos of continuous discovery. Learn more here.

The KGSP is administered by the Office of Strategic National Advancement at KAUST, under the direction of Vice President & Senior Associate to the President, Dr. Najah Ashry. Strategic National Advancement directs the university's strategy to serve Saudi Arabia's transformational priorities: Through initiatives in young talent and Saudi workforce development, social responsibility, and national engagement, the Office contributes to a thriving innovation ecosystem by building knowledge capacity, creating opportunities, and strengthening impact.