7/7/2022

This Spring semester, KGSP Advisors recommenced university site visits around the United States to meet with their students. Each site visit is an excellent opportunity for the advisor to touch base with each student's academic progress by getting a sense of how they are utilizing campus resources, adapting to their college community and environment, and performing in their classes. During the site visits, their advisors also organize fun group activities to foster community amongst KGSP students and provide them a well-deserved break from their academic studies. The advisor/student relationship is a crucial hallmark of the KGSP that promotes the students' educational and professional development. KGSP Advisors conducted 61 site visits at universities throughout the United States.
Occasionally, KAUST faculty members also visit U.S. campuses and arrange to meet with KGSP students in coordination with the advisor's site visit. On April 1, the KGSP organized a dinner for students in Los Angeles. KAUST Professor Hernando Ombao and his research team of KAUST alumni joined the dinner. They were in California to present their research at the University of California, Los Angeles (UCLA) and the University of California, Irvine (UCI). This unique opportunity is another prime example of the KGSP/KAUST community coming together and supporting one another. KGSP students were eager to speak with the KAUST graduate students asking them about their current research pursuits and the paths they took that led them to KAUST. In addition, Professor Ombao's attendance was greatly appreciated by the KGSP students who were eager to learn about his research in statistics and neurological biofeedback. Professor Ombao and his team hosted a presentation the next day at UCI, where they invited KGSP students to attend.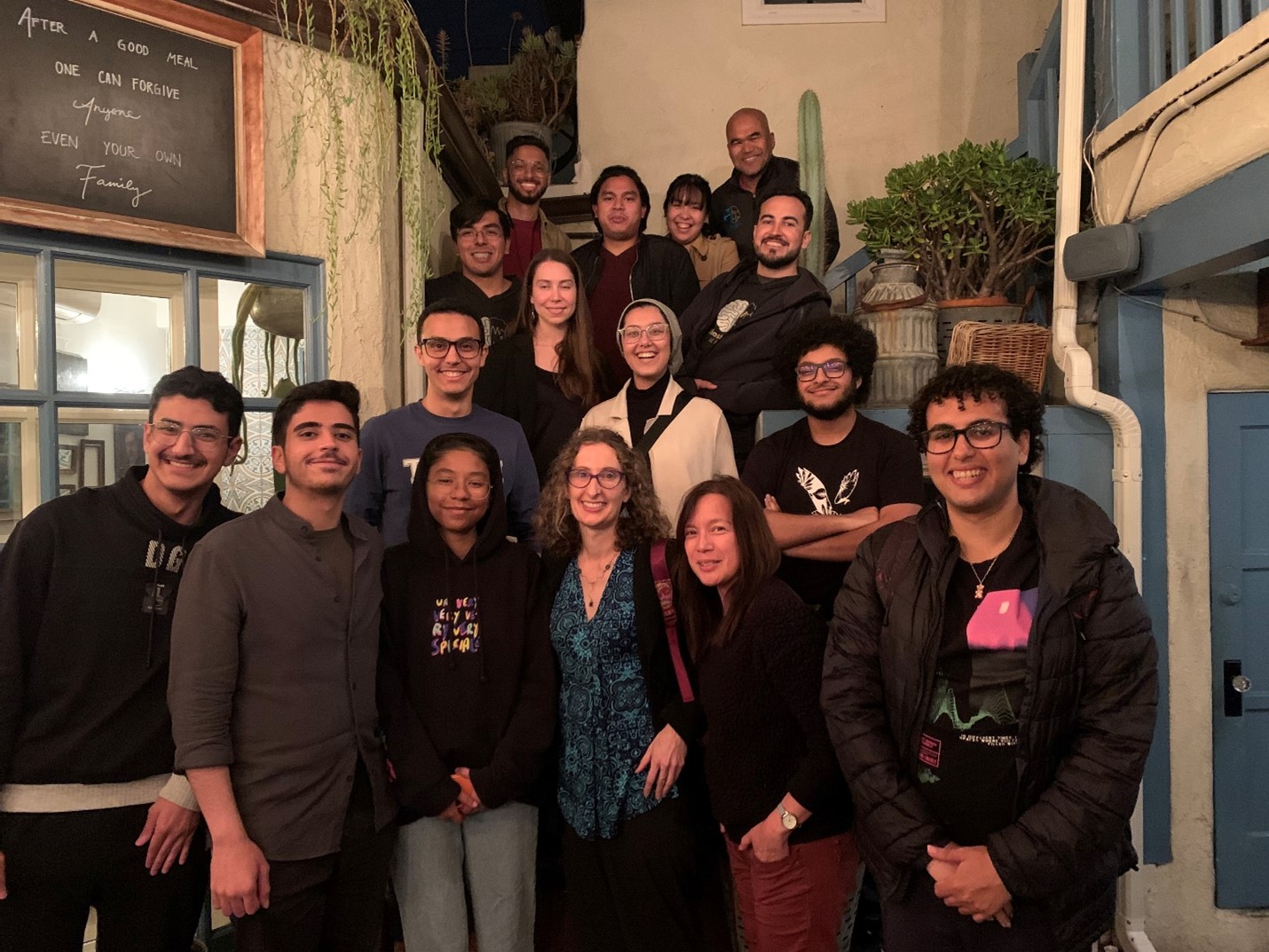 Professor Ombao (top right) KGSP Advisor Cynthia Cox (front row center) and KGSP and KAUST students

Farah Gomawi, a junior majoring in Applied Mathematics at UCLA, who attended the dinner was happy to be invited to the research presentation. She said, "This wonderful opportunity happened as a result of meeting Professor Ombao during his visit, and it shows the true benefit of giving KGSP students the chance to network with the KAUST faculty."
"As a freshman starting my undergraduate degree, meeting Dr. Ombao and his students was a precious experience. We talked about the transition from undergraduate to graduate studies, as well their experiences at KAUST," said Hassan Alrumaih, a Mathematics student from UCLA. Hassan is interested in Biostatistics and Neurological applications, making this meeting a very impactful experience.
Jood Simbawah, a freshman majoring in Materials Engineering at UCLA, left the meeting inspired by what she learned from the Professor and his students, expressing "Professor Ombao shared so much advice with me and my fellow KGSPers--advice that I can see myself applying from the moment I left the dinner, and up until I pursue research at KAUST after graduating from UCLA." Jood was further motivated to pursue her interest in Statistics after hearing him describe his work at KAUST.

KGSP Advisor Cynthia Cox, who attended the dinner at UCLA, remarked, "The dinner with Dr. Ombao and his team was an excellent example of networking in action. The KGSP students benefitted from academic discussions with Dr. Ombao and made good connections with the visiting graduate students. Every student was excited about the opportunity, as they could expand upon their knowledge of Dr. Ombao's research area and get personalized advice on how they should proceed in their academic pursuits. The students who attended the event at UC Irvine felt especially honored by this invitation and enjoyed the presentation immensely."
By meeting in-person, students can maintain the solid KGSP community, gain support from one another, and receive in-depth mentorship from their Advisors. Having KAUST faculty visiting students adds to even more exciting and enriching experiences for the KGSP
Below you can find more pictures of the site visits that KGSP Advisors conducted this spring semester!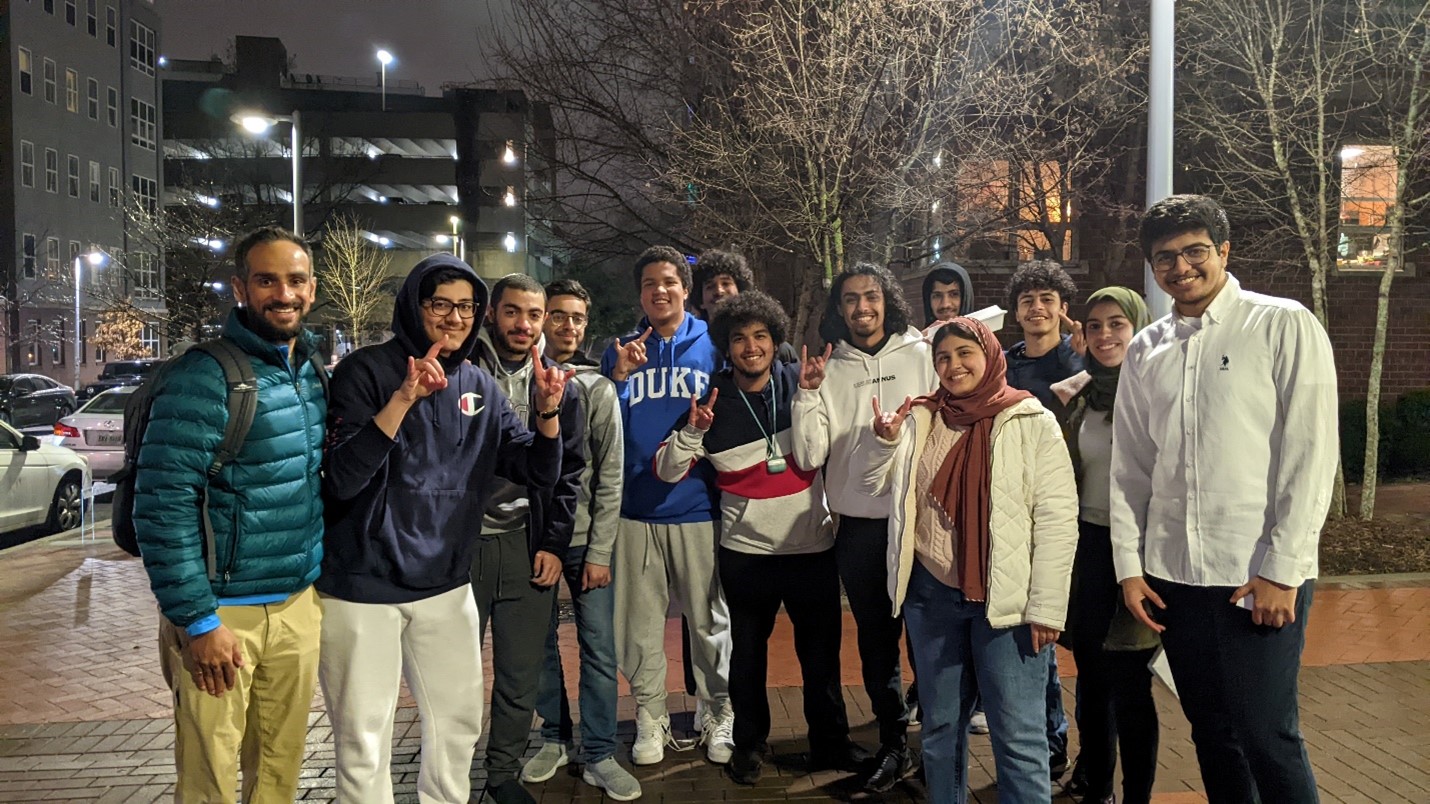 KGSP Advisor Huzaifa Potia and KGSP students in North Carolina



KGSP Advisor Garifallia Kasamias and her UIUC students

KGSP students represent the Kingdom of Saudi Arabia's future scientists, engineers, entrepreneurs, and thought-leaders. As both individuals and as a community, they reflect the KAUST mission of driving scientific discovery through excellence in education and cutting-edge research, and share a commitment to fostering innovation, economic development, and social prosperity throughout the Kingdom and the world.

Selection to the KGSP is extremely competitive, and currently by invitation only. Successful applicants are Saudi Arabian students in their final year of high school who demonstrate impressive academic credentials within STEM fields, meaningful extra-curricular achievements, and who share the KAUST ethos of continuous discovery. Learn more here.

The KGSP is administered by the Office of Strategic National Advancement at KAUST, under the direction of Vice President & Senior Associate to the President, Dr. Najah Ashry. Strategic National Advancement directs the university's strategy to serve Saudi Arabia's transformational priorities: Through initiatives in young talent and Saudi workforce development, social responsibility, and national engagement, the Office contributes to a thriving innovation ecosystem by building knowledge capacity, creating opportunities, and strengthening impact.