2021 Summer Enrichment Activities
1/13/2022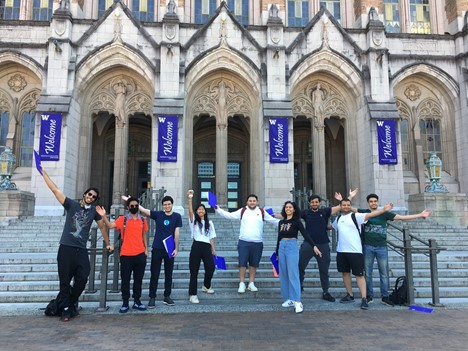 University of Washington Custom Program students


During summer 2021, more than 300 KGSP students completed summer enrichment activities such as academic research, industrial internships, and specialized skill building programs. The KGSP leverages its relationships with academic, corporate, and research institutions to facilitate valuable experiences for KGSP students to develop and apply their skills outside the classroom. In addition, the KGSP Enrichment and Advising Teams support students in their search for enrichment opportunities by providing individualized advising, resume building, and interview coaching that relates to each student's personal and professional development goals. During the past summer, with many of the constraints resulting from the COVID-19 pandemic having been lifted, many in-person enrichment opportunities became available. The number of students participating in approved internships increased 27% over the previous summer. Additionally, the number of undergraduates participating in summer research, at home or visiting institutions, increased from 18% of undergraduates in 2020 to 42% in 2021. 41% of students participated in skill-building coursework and certificate programs.
Some of these exciting opportunities from summer 2021 are highlighted below:
Research Experience for Undergraduates (REUs):
KGSP students have shown great interest in applying for REU opportunities and 12 students participated in REUs this past summer, a 50% increase compared to the previous year. For example, Sara Algurab, a junior majoring in Mechanical Engineering at Virginia Polytechnic Institute and State University, was accepted into the Advanced Technologies for Hypersonic, Propulsive, Energetic, and Reusable Platforms (HYPER) REU at the University of Central Florida. She worked with Professor Jayanta Kapat and co-authored the project paper, "Numerical and Experimental Performance Study on Adsorpotion Based Hydrogen Storage System in Silica Aerogel," which was submitted to the American Society of Mechanical Engineers 2022 Turbomachinery Technical Conference & Expo.
For the 3rd year, KGSP students participated in the Carnegie Mellon Robotics Institute Summer Scholars (RISS) REU. Lama Bahanan, a senior majoring in Biomedical Engineering at the Georgia Institute of Technology, and Shaden Alshammari, a junior majoring in Mathematics with Computer Science at the Massachusetts Institute of Technology, joined 58 other scholars from around the world in the 2021 RISS cohort. In a virtual format, Lama and Shaden explored robotics labs, met with leaders in the field, attended workshops, and were coached and mentored by CMU Robotics Institute faculty as they engaged in various research projects, which were published in the CMU Robotics Institute Working Papers Journal. You can view Lama's project presentation, "User Centered Approach for Developing a Robot Assisted Femoral Vascular Access Device for the Battlefield," here. You can view Shaden's project presentation, "Class-Imbalanced Learning via Bilevel-Optimized Weight Decay," here.
Home University Research:
KGSP students are intellectually curious and driven in their search for enrichment activities and many secure research positions at their home universities working with faculty members throughout the year to engage in meaningful scientific studies. Laila Alamri, a junior at the University of Pittsburgh majoring in Biological Engineering, worked with Dr. Hadoi Wu during the summer and co-authored a publication of their research project, "Modeling of dilated cardiomyopathy by the establishment of isogenic human iPSC lines carrying phospholamban C25T (R9C) mutation (UPITTi002-A-1) using CRISPR/Cas9 editing," which was published in the October issue of Stem Cell Research, a scientific journal dedicated to publishing high-quality manuscripts focusing on the biology and applications of stem cell research.
Albaraa Jadallah, a sophomore majoring in Mechanical Engineering at Purdue University, participated in the EPICS Program at his home university. During the summer, Albaraa, along with other teams of undergraduates, was tasked to design, build, and deploy real systems to solve engineering-based problems for local community service and education organizations. In the process, he obtained long-term define-design-build-test-deploy-support experience, communication skills, experience on multidisciplinary teams, and leadership and project management skills. "During my time at the EPICS program, I worked on the BB8 (Beep Baseball) Project as part of the Mobility team. The aim of the project was to create a beeping ball that makes a buzzing sound for Beep Baseball, a sport like baseball made tailored for people with visual impairments," Albaraa explained. He also served as his team's financial officer with responsibility for budgeting, making purchase requests, and requesting funds. In this role, he received a Purdue Service-Learning Grant of $660 for his team.

Visiting Institutions:
Mohannad Jabrah, a senior majoring in Mechanical Engineering at Brown University, was one of 165 students worldwide to be awarded the Summer Undergraduate Research Fellowship (SURF) to conduct biomedical- related research at the Mayo Clinic. You can learn more about Mohannad's participation in this highly competitive Fellowship here.
KAUST Research:
36 juniors and seven sophomores participated in research at KAUST's state-of-the-art research facilities under the mentorship of its distinguished faculty. At KAUST, Abdulaziz Farasani, a junior at the University of California, Berkeley majoring in Chemical Engineering, conducted research with Professor Udo Schwingenschlögl. From this research experience, Abdulaziz presented at the 2021 AIChE Conference Undergraduate Student Poster Competition for Materials Engineering and Sciences VII and received 3rd place for his research for Materials Engineering and Sciences VII. Additional students who benefited from this advantageous research opportunity at KAUST are featured here.
KGSP Custom Programs: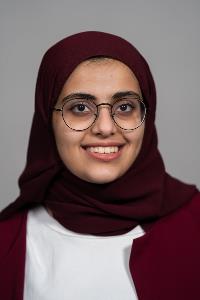 150 KGSP students participated in KGSP customized programs hosted by seven institutions across the US. Each program offered unique programming ranging from research, project-based experiential learning, and entrepreneurship. At Arizona State University, students took part in the Global Entrepreneurship and Innovation Program, which concluded with a Business Pitch Competition to create the best business plan as judged by industry entrepreneurs affiliated with the program. Manal Alshamrani, a sophomore majoring in Biomedical Engineering at Boston University, was part of the 1st Place Team who presented their pitch, "Maydan," a mobile sports application that allows female athletes to find other women to play. "I learned a lot of fundamental entrepreneurial skills such as how to build and pitch a business model, and how to create financial projections for a startup," Manal said. "The program was an eye-opening experience for me that helped me understand the essential entrepreneurial skills needed for my future as a research entrepreneur."
Abdulhamid Aldoobi, a junior majoring Electrical Engineering at The Ohio State University, was one of seven students to attend the virtual Global Education, Academics, and Research Skills (GEARS) Program, a unique academic, research and cultural exchange program, offered at North Carolina State University. "I learned a lot in terms of academics and technical communications. For example, I learned and performed experiments about image processing, FL algorithms, Vehicle-to-everything communication, and other topics," Abdulhamid expressed. His final project titled, "Communication Efficient Federated Learning in Vehicular Networks," reinforced his coursework from his Electrical Engineering classes, but it also enabled him to pursue his interests in Digital Signal Processing, Machine Learning, and Communication.
Majed Alrogi, a junior majoring in Computer Science at Virginia Polytechnic Institute and State University, participated in the KGSP custom program at the University of Washington. He also had the chance to apply his academic studies in a worthwhile research project where he used image processing to analyze the skeletal muscle fibers in mice to determine the effects of ultrasound to stimulate cell growth.
Pre-Freshman Program: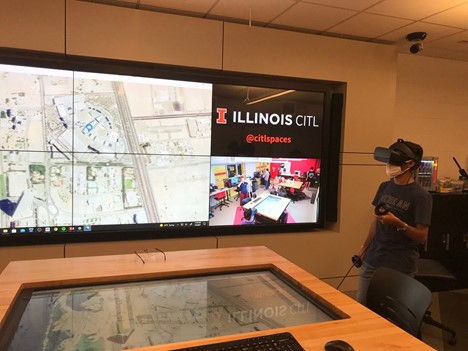 Anas Shamsan at the UIUC Tech Hub during his Pre-Freshman Program
KGSP Foundation Year students also had the opportunity for summer enrichment and participated in the Ready, Set, Undergrad course, an eight-week program tailored by the KGSP that provided additional information and instruction on how to assimilate to the United States and prepare for undergraduate education. Find out more about this course here.
Internships: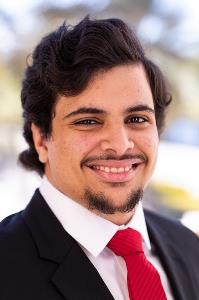 Six KGSP students interned at Aramco Services Company this summer receiving hands-on work experience in their fields of study. Saleh Altuwayjiri, a junior majoring in Chemical Engineering at the University of Wisconsin-Madison, appreciated the chance to supplement his academic studies with practical application in a professional setting. "I learned much about working in an office environment and conducting research in Research and Development. I also learned how to use numerous scientific instruments and how to effectively work in a team," Saleh stated.
Enrichment opportunities are an important component in the growth of KGSP students. These internships, research experiences, and skills development programs contribute greatly to student development by expanding knowledge and sharpening skills that can be used in and outside of the classroom to prepare students for future career endeavors. The KGSP is committed to assuring that KGSP students have the chance to participate in meaningful and impactful experiences that provide real-world experiences that will enrich undergraduate careers and further students' potential for bright futures as distinguished researchers, entrepreneurs, and leaders in the Kingdom of Saudi Arabia.

KGSP students represent the Kingdom of Saudi Arabia's future scientists, engineers, entrepreneurs, and thought-leaders. As both individuals and as a community, they reflect the KAUST mission of driving scientific discovery through excellence in education and cutting-edge research, and share a commitment to fostering innovation, economic development, and social prosperity throughout the Kingdom and the world.

Selection to the KGSP is extremely competitive, and currently by invitation only. Successful applicants are Saudi Arabian students in their final year of high school who demonstrate impressive academic credentials within STEM fields, meaningful extra-curricular achievements, and who share the KAUST ethos of continuous discovery. Learn more here.

The KGSP is administered by the Office of Strategic National Advancement at KAUST, under the direction of Vice President & Senior Associate to the President, Dr. Najah Ashry. Strategic National Advancement directs the university's strategy to serve Saudi Arabia's transformational priorities: Through initiatives in young talent and Saudi workforce development, social responsibility, and national engagement, the Office contributes to a thriving innovation ecosystem by building knowledge capacity, creating opportunities, and strengthening impact.