KGSP students represent the Kingdom of Saudi Arabia's future scientists, engineers, entrepreneurs, and thought-leaders. They are committed to the KAUST vision of driving scientific discovery through cutting-edge research with the aim of contributing to the University's mission of innovation, economic development, and social prosperity in the Kingdom, the region and the world.

Selection to the KGSP is extremely competitive, and currently by invitation only. Successful applicants are Saudi Arabian students in their final year of high school who demonstrate impressive academic credentials, meaningful extra-curricular achievements, and who share the KAUST ethos of continuous discovery.

The KGSP is administered by the department of Saudi Affairs at KAUST, which implements the University's core goals of integrated research in science and engineering with a focus on national development. Saudi Affairs manages programs that foster talent and maximize potential among Saudi youth interested in STEM fields, with initiatives ranging from middle school to post-graduate research and employment.
Student Enrichment Profile: Fatimah Alshaikh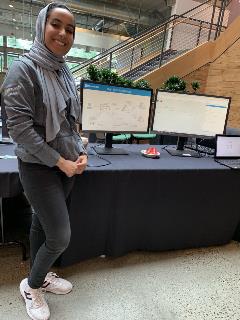 At the 2019 KGSP Convocation, Brown University junior Fatimah Alshaikh was selected to present at an "Interviewing for Success" panel discussion, sharing tips with her fellow KGSP peers on how to land a competitive summer internship. Following her own expert advice, Fatimah subsequently went on to be chosen for an exciting 12-week internship at Microsoft Corporation this summer! Serving as an Explore Intern, she worked on data visualization software for Microsoft's Outlook mail transportation and received training on tools and programming software development. In addition, she gained project management experience working with other interns, mentors, and program managers as they evaluated requirements, estimated costs, and created and implemented program features and services.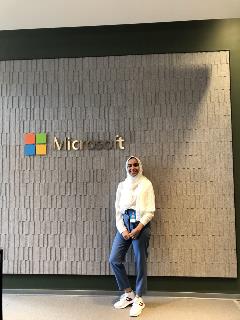 Fatimah took proactive steps to prepare for and secure her internship by utilizing networking resources provided to her by the Department of Computer Sciences at Brown. After speaking with professors, other students, and Brown's career support center, she better understood how this internship could be a valuable hands-on experience to further her academic and career interests. She also contacted her KGSP advisor to receive resume support and to arrange a practice interview session, where she learned the importance of identifying and highlighting transferable skills applicable to the specific internship job description—all of which really helped Fatimah stand out to Microsoft recruiters!
The KGSP congratulates Fatimah on this impressive internship.