Taking Proactive Preparatory Measures
You are the primary defense against contracting COVID-19. Please remember to practice these common sense precautionary measures:
Regular hand washing & sterilization of commonly-touched surfaces (doorknobs, computers, phone screens, etc.)

Avoiding crowds

Social distancing when around others (maintaining six-feet distance, avoiding handshakes, etc.)
You may decide, or be asked, to self-isolate in your home. Reasonably prepare for this by stocking up on non-perishable food items, and any prescription medication you require. The CDC website provides helpful tips for this as well. Lastly, remember that your mental health is just as important as your physical health, especially during times of increased stress or uncertainty; be aware of your own well-being, and ask for help if needed—your advisor is an excellent first resource.
Keeping Up a Healthy Lifestyle
It can be difficult to continue to maintain a balanced and healthy lifestyle when your regular routine has been changed, and especially with the increase of time spent indoors. The American Heart Association and the CDC share helpful tips for staying healthy and managing stress during this period.
Playing an Active Role in Virus Containment
Remember, a one person can have a dramatic ripple effect on a nation's infection rate: Take "Patient 31" in South Korea, an individual who may be linked to around 80 percent of the country's infections by failing to self-isolate and not following the advice of medical professionals. It is your responsibility as a member of your community to follow best practices in sterilization, preventative and self-care, social distancing, as well as to understand your local area's regulations for how to seek treatment if you feel ill (your advisor can assist in this).
Exercising While Self-distancing
We know that there's a lot of uncertainty right now, and exercise is an important way to reduce stress, improve your sleep, and keep your immune system strong. Most gyms and fitness centers are closing due to the virus, but experts say there are a number of ways you can get in a full workout while exercising at home. Here are a couple of recommendations on how to stay active throughout your day:

Planet Fitness is offering online classes. The at-home workouts will be streamed on the company's Facebook page. These classes are open to anyone, including non-members. No equipment is needed, and the classes last 20 minutes or less!
Daily Burn has so many recorded workouts – HILT, Pilates, yoga, and more. You can sign up for a 14-day trial to test it out.
The Nike Training app offers a variety of free workouts designed by trainers. The mobile app includes options for all fitness levels.
Another option is to take a walk around your neighborhood; fresh air and sunlight are great for your immune system and can increase your mood and decrease your anxiety level—this is still fine to do, even in self-quarantine.
Group Living During Coronavirus
Living with roommates can be hard. Living with roommates while social distancing and attending online classes is even harder. Now is the time to talk to your roommates and plan for what's ahead.

1. Have a house meeting about expectations:
If you haven't specifically discussed COVID-19 with your roommate, now is the time! How will you approach keeping your house clean? What household changes do you need to make to stay healthy? Should you start a chore chart or have a rotating schedule for sanitizing surfaces? The CDC has some suggestions and a checklist that might be helpful. You and your roommates should also discuss impending travel plans and if you have any underlying illnesses that could make you more susceptible to getting the coronavirus. Before having the meeting, spend 10-15 minutes reviewing the latest information about COVID-19 and the recommendations for your area.

2. Strategize for the next few weeks:
Beyond staying healthy, you also need to consider your classes. When does your roommate have classes? Is active participation expected – will it be loud at home? How will you manage two students in class at the same time? It is important to have open and honest conversations now to avoid frustration later on.

3. Be okay staying in your room:
For your own peace of mind, you may want to limit your presence in the common areas to times when you're home alone. In your private space, you also have more control over the cleanliness and sanitation of the room. However, the beauty of technology and social media is that we can stay connected with friends & family without putting others at risk. You are not alone!
4. Prioritize the emotional health of your roommates:
Make time to unwind and remind yourself that this will pass. Take time to do things you enjoy, and encourage your roommates to do the same.
Stay Connected
The spread of COVID-19 has changed the way that we socialize, while making it all the more important to stay connected. Fortunately, technology has made it a bit easier to do so!
1. Host a virtual dinner party: If you love to cook (or to eat!), consider hosting a dinner party. Using Facetime, Zoom, or WhatsApp, you can bring people together around the table. Ask your friends or family to share their favorite recipes in advance, so people prepare new foods. For the actual party, set a loose agenda, keep your camera on, and make sure to ask how everyone is coping at home.
2. Set up regular video calls with your loved ones: There are a lot of platforms offering free services right now, so there's no reason you can't talk to all of your family at once. Make a habit of asking 1-2 unique questions every time you talk, so you can spend time learning new things about each other.
3. Plan a Netflix party: Netflix Party is a new way to watch Netflix with your friends online. Netflix Party synchronizes video playback and adds group chat to your favorite Netflix shows. Use Netflix Party to link up with friends and host long distance movie nights and TV watch parties!
Practicing Mindfulness
During stressful times, mindfulness can help you feel refreshed and recharged. Mindfulness is the quality of being present and fully engaged with whatever we're doing at the moment — free from distraction or judgment, and aware of our thoughts and feelings without getting caught up in them. Practicing mindfulness can improve a wide range of willpower skills, including attention, focus, and stress management. Fortunately, there are a lot of free apps that can help you refine your practice while you are at home.
Shopping for Self-quarantine
As the number of reported cases in the U.S. continues to rise, many people are stocking up on food and basic essentials. Because the incubation period for COVID-19 is believed to be 14 days, it is recommended that you have about that much food available at your home.

What should you buy? We recommend buying additional canned goods, frozen foods, and dry grains like rice or pasta. You should also grab any special treats you really enjoy. Staying at home for a two-week period can be stressful, so don't skimp on your favorite snacks. Grocery stores are crowded, so we recommend going to the store first thing in the morning to avoid crowds!
First Line of Defense to COVID-19? YOU!

The best way to prevent illness is to avoid being exposed, so we all have a personal responsibility in containing the spread of COVID-19. The virus is spread through direct interaction with infected people (fewer than six feet), which can be drastically reduced when following these basic guidelines from the CDC:
DO
DON'T

Self-quarantine as much as possible. If you can stay home, do.




When you need to go out, practice social distancing by maintaining at least six feet between yourself and others.




Wash your hands often with soap and water for at least 20 seconds, especially after you have been in a public place, or after blowing your nose, coughing, or sneezing.




If soap and water are not readily available, use a hand sanitizer that contains at least 60% alcohol. Cover all surfaces of your hands and rub them together until they feel dry.




Clean AND disinfect frequently touched surfaces daily. This includes tables, doorknobs, light switches, countertops, handles, desks, phones, keyboards, toilets, faucets, and sinks.




If you have gone outside, take off your shoes and change your clothes once you are back home




Set a personal curfew: The majority of locations in the U.S. have not set mandatory curfews; however, knowing the times of day to run errands when there are the fewest number of people out is a good idea

Use delivery services: In additional to national delivery services (check here for some of the best national grocery store delivery apps), many local grocery stores have online ordering and/or delivery services available, or curbside service (where you order online and your groceries are packaged and awaiting for you at an outside pickup location).

Touch your eyes, nose, and mouth with unwashed hands.




Leave home if you believe you are sick; contact your doctor's office, first, to understand local guidelines for getting tested.




Spread rumors or unsubstantiated "news" items which could cause undue panic.




Ignore other aspects of your health—be sure to get enough sleep, cook yourself healthy meals, and find ways exercise at home (see previous KGSP News Blasts for ideas, or ask your advisor!)




Isolate from social media. Even when practicing social distancing or self-quarantine, it's important to use technology to remain in touch with family and friends.




Use public transportation: When you do need to go out for necessities, shop at stores within walking distance from your home, or car pool with KGSP students who you know have also been self-quarantining (as opposed to Uber, etc.)

Automatically go to the ER if you begin experiencing symptoms. Call your doctor first to understand the local guidelines for testing.
Maintaining Perspective
Many of us feel like we can't control much in our lives right now due to the threat of COVID-19, but what we absolutely can control is how we react and what we do.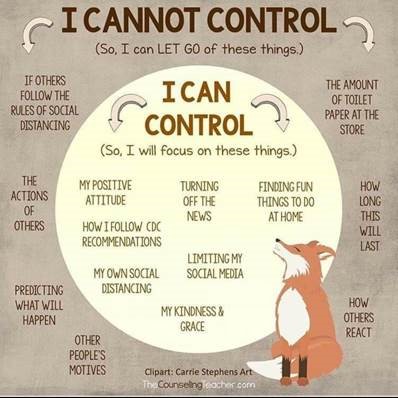 Monitoring Your Self-Care During Quarantine/ Stay-Home Orders
In times of high stress, the simple stuff can sometimes be the easiest to overlook, but it's absolutely necessary to lay the groundwork of self-care.