Tackling 21st Century Challenges at the 2020 KGSP Convocation
The KAUST Gifted Student Program (KGSP) supports over 450 students in their pursuit of undergraduate STEM degrees at 50 of the top academic institutions in the United States. One of the hallmarks of the KGSP is its annual Convocation event, which brings together the entire student body along with more than 35 members of the KAUST faculty and leadership in one location to celebrate achievements of the KGSP community, highlight innovative and ground-breaking KAUST research and advancements, and promote engagement between students and faculty members in their respective fields of study.
This year's Convocation took place January 17-19 in San Diego, California, and featured a full agenda focused on the theme of Tackling 21st Century Challenges.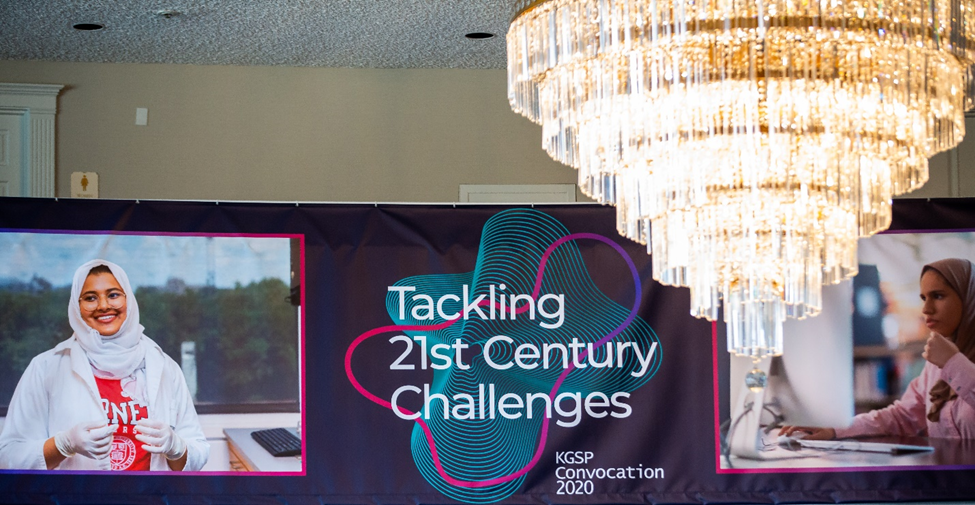 This year's Convocation was oriented around the theme of Tackling 21st Century Challenges

Event speakers and presentations reflected the immense potential for advancing solutions to some of the most intractable problems facing the world through the continued development of incredible young talent and access to world-class research resources at KAUST. Saham Al-Husseini, KAUST's Director of Undergraduate and Scholarship Programs, opened this year's event with a warm welcome and reflection on the Program's rich history of cultivating young Saudi scientists, researchers, and thought-leaders who go on to earn advanced graduate degrees, join impressive multi-national companies, and found start-ups of their own.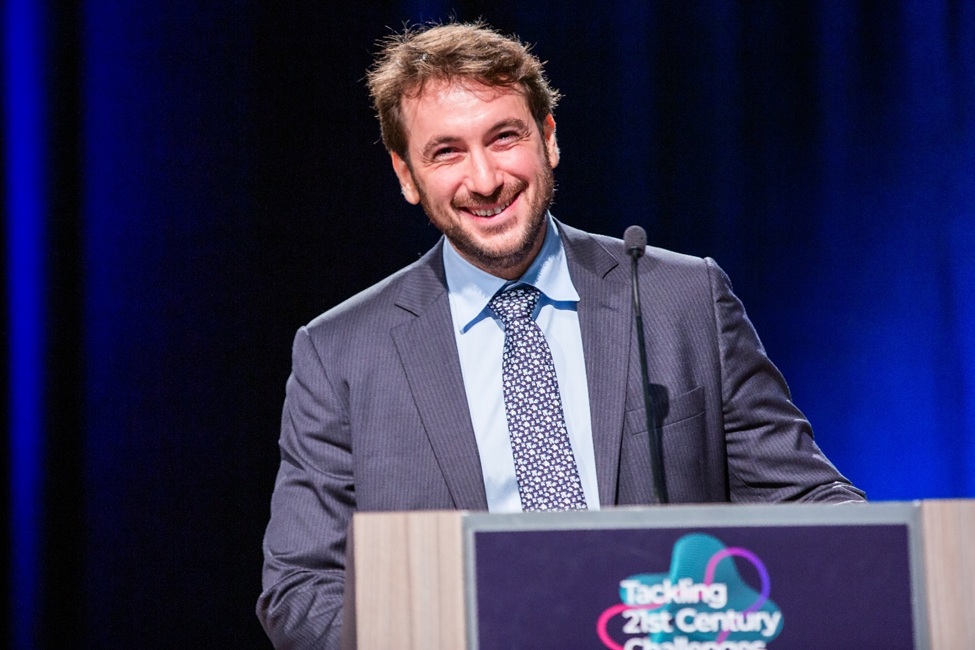 Saham Al-Husseini, KAUST's Director of Undergraduate and Scholarship Programs
Mr. Al-Husseini introduced KAUST's Acting Vice President of Academic Affairs, Yves Gnanou, who relayed the evolution of KAUST from idea to global impact and used the position of the university to frame the possibilities for future contributions from KGSP students to tackle the world's most pressing challenges.
Faculty shared highlights from ongoing research and program updates from each of the fourteen KAUST graduate degree programs within the Biological and Environmental Sciences and Engineering (BESE); Computer, Electrical, and Mathematical Sciences and Engineering (CEMSE); and Physical Science and Engineering (PSE) divisions—programs that KGSP students look forward to one day joining.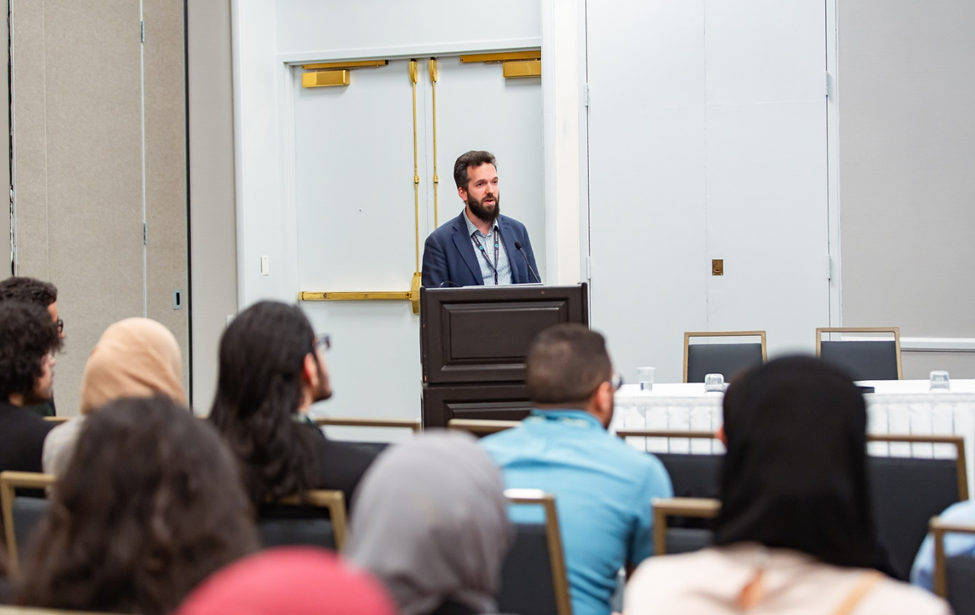 Gyorgy Szekly, Assistant Professor of Chemical Engineering at KAUST, speaking to students during a Field of Study breakout session
Dr. Justin Mynar, the Associate Vice President of Research and Executive Director of the Core Labs at KAUST, served as moderator for a faculty panel presenting the potential of scientific research in finding solutions to pressing issues the 21st century will face. Highlighting the type of innovative cross-disciplinary collaboration KAUST is recognized for worldwide, the panel featured professors Boon Ooi, Salim Al-Babili, and Sahika Inal discussing ways to support a healthier future population through smart agriculture, food security, and smart health services. In addition, Professor Thomas Anthopoulos presented on the future of electronics, and Professor Mani Sarathy presented on the future of fuels.
Throughout the event, faculty met individually with KGSP seniors and juniors in order to provide mentoring and guidance on the successful completion of their undergraduate degree programs and pursuit of post-graduate academic and research interests at KAUST. The engagement between students and faculty is a pillar of the KGSP, offering unique and personal access to the brightest minds in each student's chosen field of study.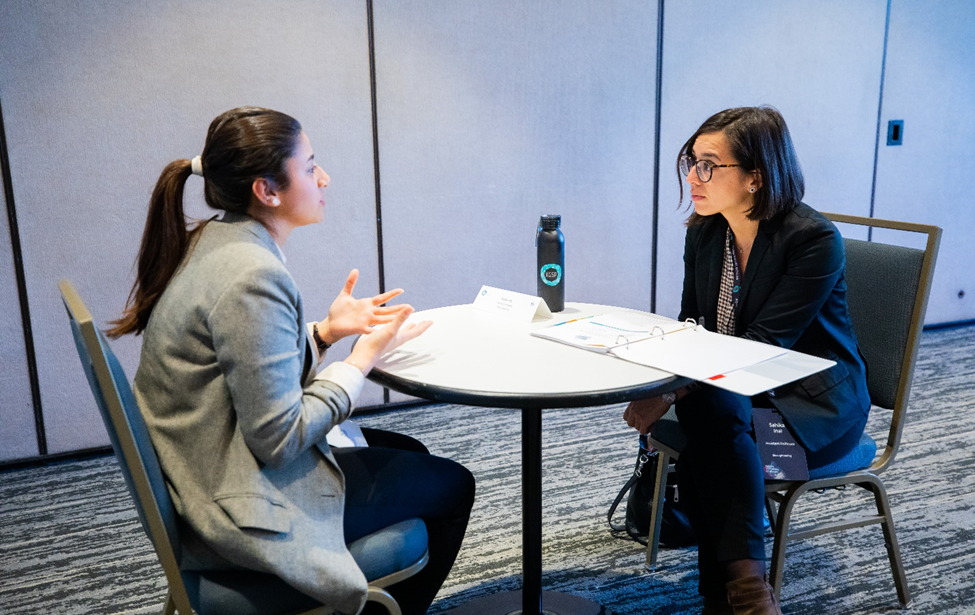 Assistant Professor Sahika Inal of Bioengineering mentors a KGSP student
Many guests presented at the Convocation for the first time this year, including members of the KAUST Entrepreneurship Center, and co-founders of start-up companies incubated through the TAQADAM accelerator program at KAUST—all former students. Head of the KAUST Entrepreneurship Center Mr. Hattan Ahmed introduced the University's work in bringing the most promising scientific and technological innovations to market. Similarly, each co-founder represented a success story of how KAUST prepares young scientists to apply their education and training to enter Saudi Arabia's dynamic entrepreneurial ecosystem, propelled by significant seed funding and other support mechanisms provided by the University. Each co-founder shared their company's start-up pitches, which proved particularly special two of the co-founders also KGSP alumni, offering current students a tangible example of the ways in which KGSP prepares student to tackle 21st century challenges.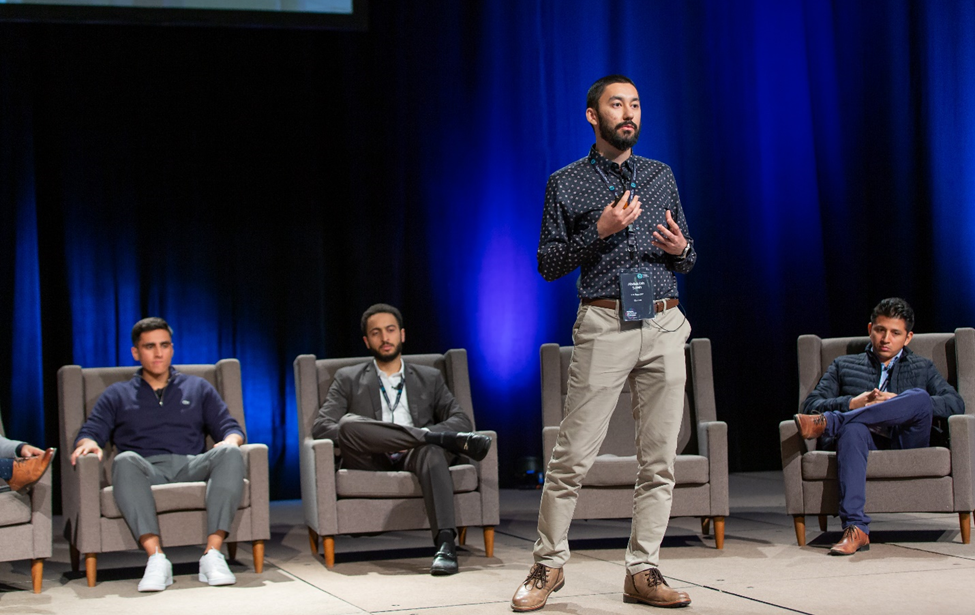 Abdulelah Saleh, KGSP Alumnus and TAQADAM participant pitches the Glucojet startup
This year's event featured the recurrence of several popular Convocation sessions including a Faculty Research Fair, College Fair, and Student Enrichment Fair, the latter of which over 75 KGSP students presented their recent summer enrichment opportunities to underclassmen interested in similar pursuits. KAUST faculty served as officiants for a research poster competition held within each KAUST division, remarking upon the impressive quality and breadth of research conducted by the KGSP student body. This year's research poster winners were:
Biological and Environmental Science and Engineering
2nd Place: Khlifa Saleh Alnaim – Senior, Boston University
1st Place: Eter Raed Othman – Senior, Purdue University
Faculty Evaluators: Michael Berumen and Peiying Hong
Computer, Electrical and Mathematical Sciences and Engineering
3rd Place: Renad Mowaffaq Bougis – Senior, Virginia Polytechnic Institute and State University
2nd Place: Ahmed Abdullah Albahhar – Senior, Boston University
1st Place: Omar Tawfig Alrabiah – Junior, Carnegie Mellon University
Faculty Evaluators: Mohamed-Slim Alouini and Boon Ooi
Physical Science and Engineering
3rd Place: Hadi Hassan Al Naji – Senior, Michigan State University
2nd Place: Lujain Ismail Fatta – Senior, Rose Hulman Institute of Technology
1st Place: Mohammed Hassan Bo Khamseen – Senior, Purdue University; & Khalid Abdullah Algashgari – Senior, University of Colorado
Faculty Evaluators: Aamir Farooq, Mani Sarathy, and Gilles Lubineau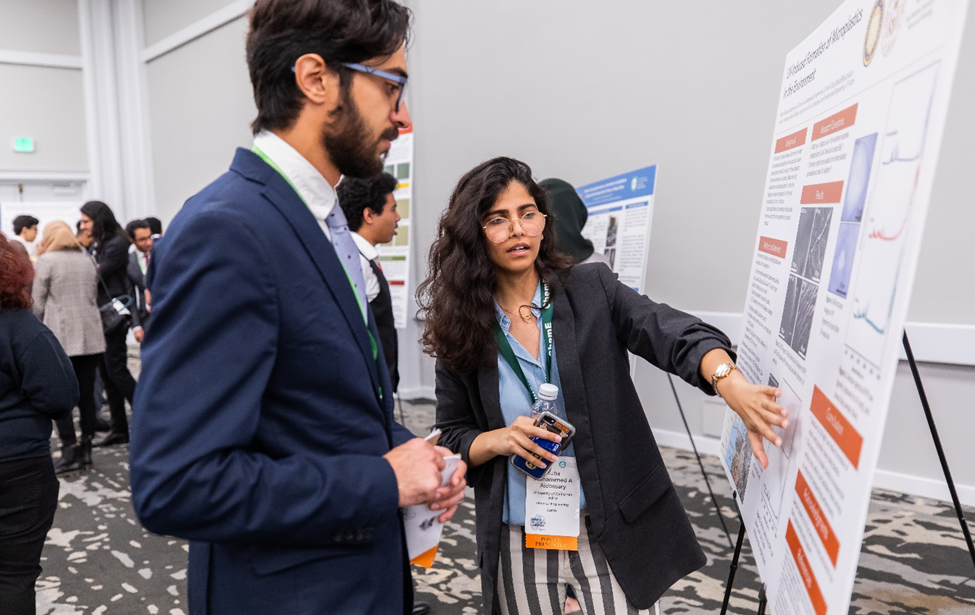 Ruba Aldossary, a Junior at UC-Irvine, presenting her Research Poster during the Student Enrichment Fair
Near the conclusion of the event, the KGSP celebrated the achievements of its senior class. Brian Moran, the Dean of Graduate Affairs at KAUST, issued a commencement charge to the nearly 100 seniors expected to graduate before next year's Convocation, and was the first to welcome many of them to their future academic homes at KAUST. Senior commencement speakers Mariam Alghamdi (University of California-Los Angeles) and Abdullah Alquwayzani (Texas A&M University), announced the names of all seniors who crossed the stage to receive a certificate of achievement from KAUST leadership.
The KGSP also bestowed an award for best student presenter, evaluated for dynamism of oral presentation and ability to engage an audience. This year's award was given to Munirah Khalid Aldarwish, a Sophomore at Smith College majoring in Geosciences.
"I was pleasantly surprised to be recognized by KGSP in front of all my friends and colleagues for the research I had done during my internship this summer at Virginia Tech," said Munirah. "Many of the research projects that were presented this year were really strong, so it meant a lot to be chosen from among my fellow talented colleagues." She continued, "Being a KGSP student automatically prepares you for challenges you expect to see in academic settings, but it also teaches you to have higher standards for yourself and pushes you toward that direction".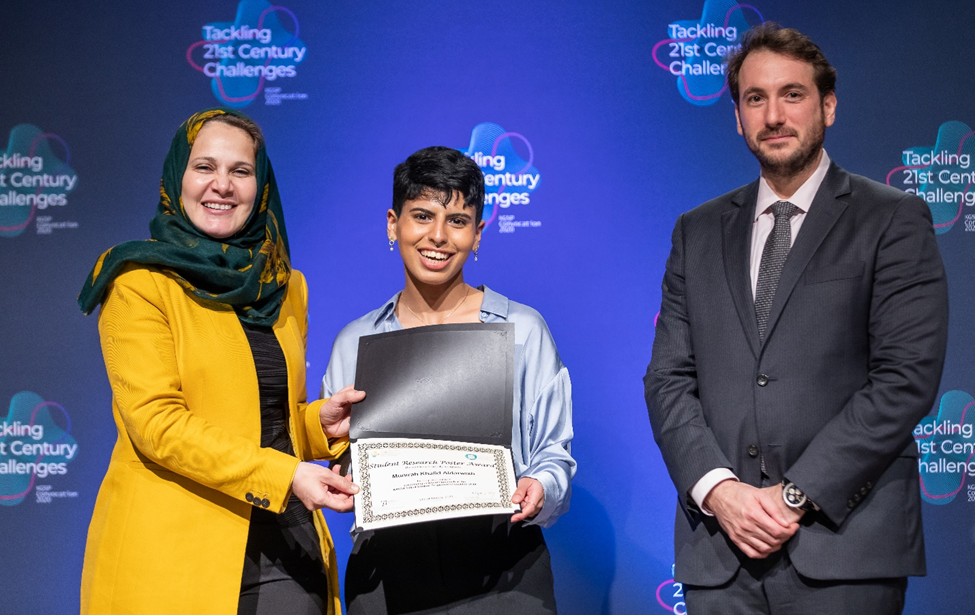 Munirah Aldarqish, a Sophomore at Smith College, is presented with a Student Research Poster Award by Dr. Najah, Vice President of Strategic National Advancement and Senior Associate to the President, and Saham Al-Husseini
To close this year's Convocation, Dr. Najah Ashry, KAUST's Vice President and Senior Associate to the President, Strategic National Advancement, gave an address in which she remarked upon the key role the University is playing at this important moment within the Kingdom, and the position of KAUST in cultivating emerging young talent to be influencers in its economic and technological advancement. She encouraged students to always remain curious and passionate, to continue to work, and to prepare for a life of impact.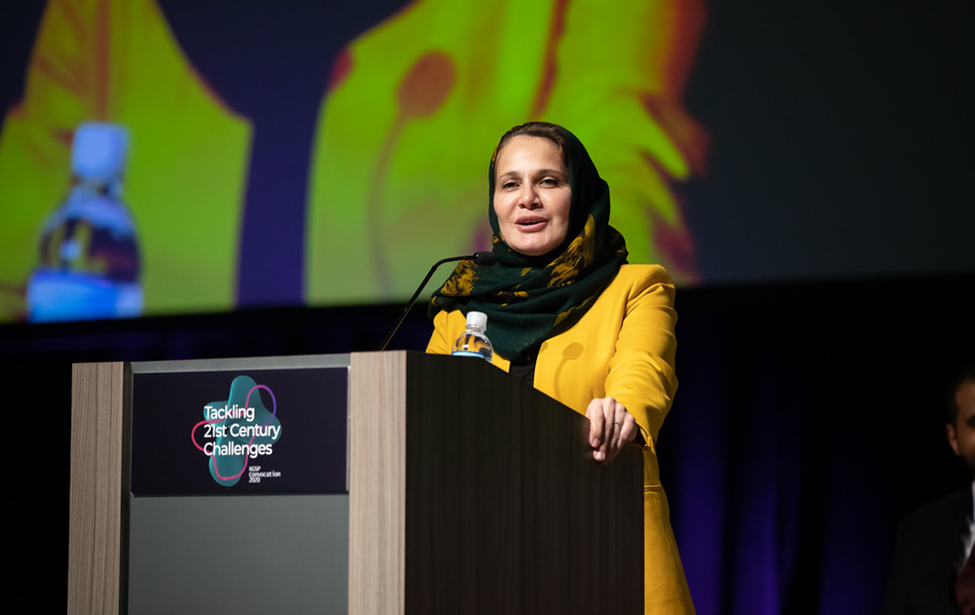 Dr. Najah Ashry gives an inspiring closing address to KGSP Convocation attendees